U.S. Economy
The Inflation Numbers Yellen Should Be Talking About
Prices are cooling in China, which should worry anyone watching the recovery in the U.S.
by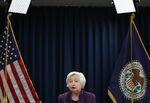 Chinese inflation probably won't get much airtime when Fed Chair Janet Yellen testifies to Congress this week. That's a shame, because weak prices in America's largest trading partner may have implications for prices around the world.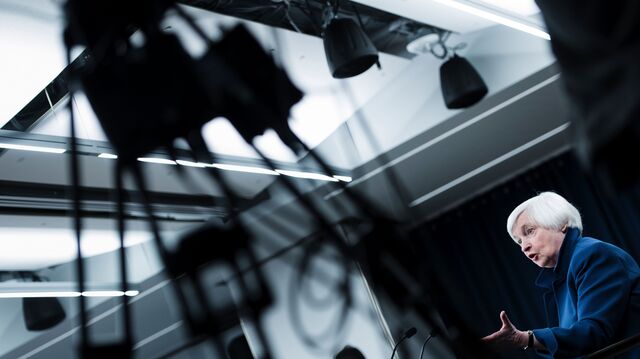 Signs point to receding price pressures in the world's second-largest economy. Figures overnight showed China's producer price index has lost momentum, rising only 5.5 percent in June. It is keeping a lid on consumer price growth as well.
In 2016, China's producer price gauge ended years of declines, turning positive in September and climbing to 7.8 percent this February.
What else happened in February? The Federal Reserve's preferred measure of inflation finally rose to its target of 2 percent. And it too has receded since then, dropping to 1.4 percent in May.
If the U.S. and China are so intertwined, it's worth taking a second look at the broad-based investor confidence since last fall. Markets have been on a stunning run -- often attributed to a "Trump reflation trade." But the timing of the U.S. election may just be a coincidence, if investors are actually betting on Chinese reflation. If so, the slowing numbers out of Beijing might make investors think twice.
Some Fed officials are already concerned by a loss of momentum in U.S. inflation and by still-anemic wage growth. The prevailing wisdom is that the decline in the rate of inflation is transitory and temporary. However, some people at last month's Fed policy meeting have begun to voice doubts about the decades-old idea that low unemployment leads to rising wages and, ultimately, inflation. The U.S. has had declining unemployment for years now. Wages and inflation are not following.
A bit of language in the minutes of the Fed's June 13-14 meeting is worth revisiting: "Several participants expressed concern that progress toward the Committee's 2 percent longer-run inflation objective might have slowed and that the recent softness in inflation might persist." Referring to employment and inflation, they wondered if "the relationship between these two variables appeared to be weaker than in previous decades."
Still, the doubters are in the minority, and Fed policy doesn't suddenly turn on a dime. Unlike in 2015 and 2016, the Fed has basically done what it began the year saying it would do: It has raised interest rates twice, and many economists anticipate perhaps one more increase in 2017.
The Fed is in good company, moving in the same direction as the other big central banks except Japan's. Policy makers in Canada, the euro zone and the U.K. have signaled a shift away from the super-low interest rates of recent years. They are tentatively proceeding as though their economies are stabilized, even though the inflation data doesn't support that idea.  
Which brings us back to China. Is Yellen worried that soft prices in China will exacerbate already-weak inflation in the U.S.? If not, why are officials confident that inflation will return to their target despite the waning Chinese reflation picture and soft wage figures at home? Lawmakers in the House and the Senate have a chance this week to ask.
To contact the editor responsible for this story:
Philip Gray at philipgray@bloomberg.net
Before it's here, it's on the Bloomberg Terminal.
LEARN MORE