view
Sanders 2020? Let's Not Get Ahead of Ourselves
Jonathan Bernstein's morning links.
by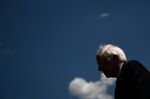 Matt Yglesias makes the case that Bernie Sanders is "the real 2020 Democratic frontrunner" and that "if Bernie Sanders runs again, he'll be hard to beat." I wouldn't rule out the possibility of a Sanders nomination, but I'm pretty skeptical.
It's not that hard to find good comparables for a Sanders 2020 run, and they're not exactly good news for the Vermont quasi-Democrat. Sanders was the runner-up in 2016, winning an impressive 23 contests and finishing with some 43 percent of Democratic primary votes. His major weakness was a lack of support from party actors, seen most obviously in the very small list of endorsements he received from elected officials. 
So who are the Sanders comps? I've speculated that his repeat run might be most like that of Minnesota Senator Gene McCarthy's 1972 effort, when he went from impressive insurgent in 1968 to weak also-ran in 1972. Whether to count that or not is a tricky question, given that the reforms that created the modern nomination process took place between those two elections. Still, it seems relevant to me. By 1972, the anti-war movement that had supported McCarthy was even stronger within the party, but anti-war Democrats didn't have any loyalty to the candidate who had (in a sense) pushed Lyndon Johnson out of the White House. They moved on.
What about others who broke out unexpectedly as insurgents with little party support but fell short of winning the nomination? Gary Hart in 1984 won the most contests and fell just short of winning the most votes; in 1988 -- granted, one sex scandal later -- he won nowhere and finished a poor sixth in total votes. And John Edwards only won two states in 2004 and 19 percent of the vote, but he's at least in the same general family of candidates; he did win the running-mate slot that year but fizzled badly in 2008 after a somewhat disappointing second-place finish in Iowa. One might consider both Paul Tsongas and Jerry Brown in 1992 as at least somewhat related candidacies; neither ran again. (I suppose with Brown we have to say: so far. One could also add Brown's 1976 run to this list; he did quite a bit worse in 1980, although the circumstances in both years make the comparison difficult.)
McCarthy, Hart, Edwards and Sanders were all very different kinds of candidates. But all appealed mainly to white voters, and of those mainly the better-educated (and generally younger). And what this history tells us is that it's not a group that maintains a lot of long-term loyalty; the whole appeal of these politicians in the first place to this group may have been that they were fresh faces. 
There's no iron law at work here; it's quite possible to poke holes in each of the comparisons, and at any rate we hardly have enough previous examples to say anything definitive. I do think that at this point, analysts are underrating those current senators and governors who haven't yet run but are well-liked within the party -- people who can look back at Michael Dukakis, Bill Clinton, John Kerry and Barack Obama as examples of the kinds of first-time candidates rewarded by the Democratic nomination system. 
The problem with assessing which candidates are winning the "invisible" primary is that it tends to be, well, hard to see what's happening. But to the extent past patterns apply, Sanders has a very, very uphill path to climb, and he would even if his age wasn't a separate major issue to overcome.
1. Dan Drezner on Rex Tillerson's disastrous term as secretary of state. 
2. Rick Hasen on the laws the Pence-Kobach commission might have already broken -- so far. 
3. Vox's Sean Illing speaks with Elizabeth Saunders about why world disapproval of Donald Trump matters.
4. Julie Smith on Trump's meeting with Vladimir Putin.
5. My Bloomberg View colleague Noah Smith on suburbia after retail. Interesting! Although as a born-and-bred (and current) suburbanite -- albeit one who has usually lived in "suburban" areas within the central city's borders -- I'd draw a sharper distinction between classic malls, big-box malls and strip malls. 
Get Early Returns every morning in your inbox. Click here to subscribe.
To contact the editor responsible for this story:
Brooke Sample at bsample1@bloomberg.net
Before it's here, it's on the Bloomberg Terminal.
LEARN MORE