Tech
The New Economy Needs to Go a Bit Retro
Companies like Uber and Facebook found they can't quite revolutionize transportation and media without providing transportation and creating media.
by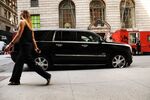 A taxi company that owns no cars. A media titan that creates no content. A retailer with no stores.
A couple of years ago, this was the view of Uber, Facebook and Amazon: growing powerhouses even though they consisted of little more than software engineers and data centers (and, in Amazon's case, a back room with no storefront). Perhaps the future of the economy was a handful of gigantic tech firms serving as an interface on the real economy, collecting a toll for all activity, while the rest of us toiled away earning a meager living.
But some skeptics expected the easy and low-cost growth of these tech companies to be a short-term phenomenon, and the past few weeks have vindicated the disbelievers. In three key areas -- transportation, content and real estate -- the big players are concluding that their future growth depends on behaving more like their boring old-economy peers, perhaps with similar economic models. Eventually their valuations may fall to match.
Transportation, as tech companies are learning, is more involved than designing an algorithm and an app and watching the money roll in. When Uber ousted its CEO last week, the first change it made was to address concerns raised by its drivers, on whom it will continue to depend until we have autonomous vehicles. Back when the company was small and the unemployment rate was high, maintaining an adequate supply of drivers was a very different task. Now the company must find a way to pay drivers more, through higher fares and/or by letting drivers keep a higher percentage of fares. That is likely to slow growth. The next time Uber needs to raise money, the market may decide these new economics don't justify a $70 billion valuation.
Other tech companies hoping to get into the autonomous vehicle game are grappling with an unresolved question: Who will maintain fleets of millions of vehicles? This helps explain why Alphabet's Waymo signed a partnership with Avis Budget Group and Apple did the same with Hertz Global, because rental-car companies have experience managing vehicle fleets. Beyond expertise, maintaining fleets is expensive -- think depreciation, repairs, cleaning, storage, charging and so on -- and Silicon Valley companies understandably are looking to avoid doing this. But they have come to recognize that it must be done.
Facebook has had a similar realization about content. It can no longer rely on its users alone. Now, Facebook is looking to create scripted TV-quality content. Facebook and Google's core business is selling advertising. Advertising requires eyeballs. Eyeballs go where the high-quality content is. High-quality content, for the most part, isn't free.
It's not hard to envision a future in which Facebook, Google, Netflix, Amazon and Apple are all spending billions of dollars a year on content creation or acquisition to keep users engaged on their platforms, just like television companies have for decades. But content is a tough business full of hits and misses. It's unlikely that profit margins will remain as high as they have been. The future of these companies' content divisions is likely to have producers, executives and creative talent at the top rather than engineers, more in line with Hollywood.
And Amazon has conceded that it needs some taste of the old economy in order to keep growing. Its bid for Whole Foods is a bid for well-located real estate and foot traffic in traditional stores.
The companies that seek to dominate the autonomous vehicle market may end up in the real-estate business as well. To meet peak rush hour demand, we'll need a lot of vehicles that will be idle during off-peak hours, and those vehicles will need to be stored and serviced somewhere. Solving the "last-mile problem" of delivery and ground transportation will require a lot of real estate in dense, expensive communities.
They may be destined to dominate our economy, but to plan their futures large tech companies are increasingly starting to act like companies from the economy of the past.
To contact the editor responsible for this story:
Philip Gray at philipgray@bloomberg.net
Before it's here, it's on the Bloomberg Terminal.
LEARN MORE