Europe
Europe's Smaller But Tougher Migrant Crisis
The migrant flows into Italy are much tougher to tackle than the refugee crisis of 2015-2016.
by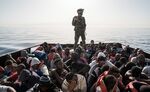 Europe is in the midst of its second migration crisis since 2015. This one is smaller than the last, but harder to resolve.
According to the UNHCR, the United Nations refugee agency, 84,832 undocumented migrants have arrived in Italy so far this year, higher for every month except January. 
This is a very different problem, however, than the one Europe faced in 2015. Back then, most of the newcomers who flooded the continent via the so-called eastern Mediterranean or Balkan route -- through Turkey, Greece, former Yugoslavia, Hungary and on to Germany and Scandinavia -- were genuine refugees from Syria, Iraq and Afghanistan. This year, Nigerians are the biggest group of people arriving in Italy via the central Mediterranean route, mainly from Libya; they are followed by Bangladeshis, Guineans, Ivorians, Gambians, Senegalese and Moroccans. These countries are not war-torn like Syria, and the people who flee them mainly do so for economic reasons. 
QuickTake Europe's Refugee Crisis
Because this is no mass refugee exodus but a sum of thinner flows from poor countries, human trafficking plays a much bigger role in the most recent migration wave than it did in the last one. According to the International Organization for Migration, which surveys the migrants, 79 percent of those who used the central Mediterranean route this year reported that they had been subjected to trafficking and exploitative practices: held against their will, forced to work without pay, beaten or tortured.
Another important distinction is that while Germany's decision to welcome the refugees in the previous crisis relieved the tension on the countries along the Balkan route (and increased it in Germany, which proved capable of handling it), this year's arrivals are bottled up in Italy. Countries along its borders have been careful to keep out as many migrants as they possibly can. Austria decided to send soldiers and armored personnel carriers to the Italian border. Switzerland is strengthening the police presence at crossings. Migrants have been clashing with Italian police in Ventimiglia on the French border: Neither France nor the Italian town wants them. 
German Chancellor Angela Merkel ultimately stopped the previous crisis in March 2016 by spearheading the European Union's deal with Turkish President Recep Tayyip Erdogan, who promised to accept migrants if Europe turned them back. Though the EU hasn't quite kept its end of the bargain -- it has sent the promised monetary aid but not granted Turks visa-free travel, which depended on certain conditions being met by Ankara -- the deal has largely held. Turkey has housed almost 3 million Syrian refugees, who are largely staying put. Besides, countries along the Balkan route have fortified their borders and made it clear they would make life difficult for migrants. There are no such remedies available for the current crisis.
The central Mediterranean route is direct -- there are no other countries to cross between Libya and Italy, just a stormy, often deadly sea. There is also no way to strike a Turkey-style deal. Since Muammar Gaddafi was killed, Libya has had a weak democratically elected government that doesn't control much of the country. General Khalifa Haftar, on the verge of gaining full control of Benghazi, Libya's second city, after a three-year battle, is threatening to attack the capital, Tripoli, by the end of the year. But even if Europeans wanted to do a deal with Haftar -- and they don't, at least not openly -- he couldn't promise them anything, either.
Besides, the Italian government is too weak to intervene more heavily in Libya, which was an Italian colony for most of the first half of the 20th century. The next election, which should take place early next year, threatens to unseat the cabinet led by the center-left Democratic Party in favor of the populist Five Star Movement or the resurgent right, which made gains in recent local elections. Prime Minister Paolo Gentiloni is no Merkel, and it's hard to expect him to move as effectively as she did in 2016 to stave off her own political demise.
There are almost 400,000 identified migrants in Libya, and probably many more unidentified ones. Unlike the ones settled in refugee camps in Turkey, these people are on the move, actively seeking opportunities to cross into Europe and preyed upon by traffickers.
It's clear that the migrant resettlement scheme agreed by the bloc in September 2015, is not working -- only 23,503 people have been relocated so far, most of them from Greece. Eastern European nations have barely taken any, and wealthier Western European ones are a long way from meeting their quotas. Additional resources for Frontex, the European border agency, have been useful -- the agency saves thousands of migrants who otherwise would have drowned and arrests hundreds of suspected traffickers -- but there's no way to seal the sea border completely. And though the EU allows Italy to run a large budget deficit and disburses additional funds to the country so it could better handle the migrant inflows -- the bloc announced another 35 million-euro ($40 million) allocation Tuesday -- money alone cannot solve Italy's migration-related problems, including political ones. 
The EU's newly issued action plan to support Italy is largely a set of palliative measures. The inflows via the central Mediterranean route can't be cut while Libya is incapable of reaching and implementing any deal to keep the migrants as Turkey has done. If the European Union had a joint military force, the crisis would probably justify a deployment -- and, judging by the current balance of forces, an intervention on Haftar's side. But not even the North Atlantic Treaty Organization, of which most EU countries are members, will consider anything of the kind.
Unlike in 2015, refugees are not entering Europe by their millions. But the current crisis is also a humanitarian disaster and has reached more an impasse. The Italian government cannot do much to help itself. The Libyan mess is holding it hostage.
To contact the editor responsible for this story:
Therese Raphael at traphael4@bloomberg.net
Before it's here, it's on the Bloomberg Terminal.
LEARN MORE