view
Washington Timelines Are Working Against the Markets
Equities are bound to fall as more investors come to the realization that Trump's aspirations may not be fulfilled.
by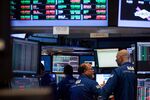 It isn't as if President Donald Trump isn't trying. He is floating all kinds of plans, most of which he talked about during the election campaign. Like them or not, he is pretty much doing what he said he would do. The problem, then, is not what he puts on the table but what happens to those ideas when they come face-to-face with Congress and the Washington bureaucracy.

It is not so much that it is a Democrat versus Republican issue. It seems far more than that. It is Trump, the outsider, battling the insiders and having a tough time making a go of it. I do not comment on this as a stand-alone political observation, but to point out how this impasse impacts markets. Trump's novel ideas have left the fast track and entered a slow grind. There the distinct possibility that some of Trump's hopes and promises and dreams remain just that and will not get passed at all, or will get passed in a time frame way beyond what is hoped by some, and thought by many.
At some point, equities are going to have some sort of downward reversal -- which may have already started -- as more investors come to the realization that Trump's aspirations may not be fulfilled, or if they are, that they will be far past the timeline that he and his team have called outlined.
Just consider the latest news on healthcare. Senate Majority Leader Mitch McConnell of Kentucky has delayed a vote to overhaul the 2010 Affordable Care Act until mid-July. The move came after the bipartisan Congressional Budget Office concluded that the Republican plan would cause an estimated 22 million more Americans to be uninsured by 2026 while reducing federal spending by $321 billion. According to Bloomberg News, McConnell will have to navigate a host of competing demands from moderates and conservatives as he strives for the 50 votes needed to pass a measure under filibuster-busting procedures. No Democrats in the chamber back the drive to replace the 2010 Affordable Care Act with a Republican version that includes a repeal of Obamacare's tax increases and expansion of Medicaid, the news service said.

That brings us to the benchmark 10-year U.S. Treasury note. The key level to watch in my calculations is 2.32 percent, versus the current 2.22 percent. We may once again push toward that level, mainly because of the dollar's weakness, hawkish comments by the Federal Reserve and European Central Bank, and a shift in attitudes. I do not expect any big move here, but it warrants keeping an eye on interest rates and the yield curve.
A key issue that most institutional investors seem to be ignoring but is toward the top of my considerations is pensions, especially when it comes to evaluating corporate and municipal credits. We are at a point where pension-fund obligations can have a material impact on the health of all types of credits and they should be carefully assessed.
Just this week, Bloomberg News reported that United Parcel Service would freeze a pension plan for about 70,000 nonunion U.S. employees because of escalating costs and volatility in determining future payments. UPS's pension plans in the U.S. had a $9.85 billion shortfall at the end of last year, meaning they were about 76 percent funded, Bloomberg reported. The Wall Street Journal cited consulting firm Mercer when it reported that the collective deficit in S&P 1500 pension plans totaled $408 billion at the end of last year.
In the municipal market, I am quite negative on pension-fund bonds. We have all seen the carnage resulting from Puerto Rico, the state of Illinois, and various cities and municipalities. I do not expect the damage to end any time soon and the problems will only get worse.
I have the same concerns when it comes to the corporate debt market. Many analysts don't touch upon pension obligations when making a call on an equity or a bond. That is careless. We may have ignored this issue in times past, but the UPS decision brings the problem to the fore. "Caveat emptor," or let the buyer beware, could not ring more loudly now.
The list of American companies freezing pension benefits or transitioning to 401(k) retirement plans is growing. By last November, 38 companies in the Fortune 100 had frozen their defined benefit plans, according to pension consulting firm Willis Towers Watson. When pensions are frozen, some of the benefits in those plans stop accruing or even get cancelled.
Another seven companies in the Fortune 100, have terminated their pensions entirely. For new workers, 73 percent of the Fortune 100 only offer defined contribution plans such as 401(k)s. Corporate pension costs could have a significant impact on earnings in some cases. In other cases, it could wipe out earnings entirely, as we have seen in some municipal credits.
To contact the editor responsible for this story:
Robert Burgess at bburgess@bloomberg.net
Before it's here, it's on the Bloomberg Terminal.
LEARN MORE