view
Online Shoppers Deserve Better Than a Duopoly
Europe's regulator has pointed out a market failure. It's not too late for Google to correct it.
by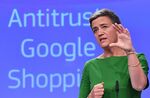 The European Commission's action against Google has been ridiculed for focusing on an outdated problem. Multiple shopping comparison engines? That's so old-timey! But the commission has a point; it's not too late to start correcting a looming market failure that poses dangers for everyone who buys online.
In a column for Politico, City University of New York professor Jeff Jarvis ridiculed the European regulator for being too slow to track changes in e-commerce. As far as he is concerned, Google Shopping is not even a thing anymore, and certainly not worth the 2.4 billion euro ($2.7 billion) fine the commission imposed on Google:
I live la vida Google. I wrote a book about and co-host a podcast about Google. I use countless of its services: Chrome, Chromebooks (my only laptops), Android phones and tablets, Search, Gmail, Docs, YouTube, Translate, Play Music and Books, Assistant, Waze. But even I can hardly remember ever using Google's shopping comparison service. Can you? Of course, I use Amazon instead.
In his response to the ruling, Google's top lawyer, Ken Walker, writes that "thousands of European merchants use these ads to compete with larger companies like Amazon and eBay." He links to a September 2016 Bloomberg News story that says more than 50 percent of shoppers turn to Amazon first when looking for things to buy. Google, according to Walker, competes "with Amazon and other sites for shopping-related searches."
Some Google fans, in other words, would like to frame the situation as if Amazon has won the entire market. Google itself knows that's not so, because it competes rather successfully with Amazon in the product listing ad space. While the research by the online sales optimization firm BloomReach, cited in the Bloomberg story, shows Amazon gaining ground as the first port of call for shoppers, leaving search engines with just a 28 percent market share, it also shows that search engines (mostly Google, of course) have 34 percent of the market on mobile devices, compared with 50 percent for Amazon. Given that people increasingly shop on their smartphones, it's too early to write off Google as a competitor. In fact, as recently as late last year, Amazon was testing its own ads on Google Shopping -- something it had long refused to do. 
Amazon's biggest advantage in this fight comes from the common misperception that customers are buying from Amazon, the retailer. It's seen as a large, reliable company with warehouses and delivery arrangements everywhere. But in many cases, we're actually buying on Amazon Marketplace, the company's third-party platform: Other retailers pay to list their products on Amazon and handle their own logistics. The only difference with Google Shopping is that we pay through our Amazon accounts; with Google Shopping, the customer pays the online store directly.
On the surface, the European Commission's ruling against Google helps Amazon. If Google Shopping results can no longer be prominently displayed on search result pages, Google is going to be weakened as a starting point for product searches. It's not as if Google can somehow tweak its search algorithm to help other shopping engines; they're barely alive, anyway, after years of Google and Amazon dominance.
One could also say the commission is unfair in not going after Amazon. It linked its investigation into product listing ads to Google's search dominance, but ignored Amazon's use of its own strong position in e-commerce to become a competitor in the market for this type of ad. Arguably, Amazon is more culpable than Google because it strips third-party sellers of their identity (it played with Google-style ads until 2015, but dropped it). Its growing dominance -- in the U.S., some forecasts say it may handle 50 percent of e-commerce transactions by 2021 -- is not in consumers' interest. Retail should never be a winner-take-all market, as anyone would attest who's lived in an area where Walmart is the only game in town.
Google will make these arguments in its likely appeal. But it's up to Google to fix things in the consumer's interest now that the European Commission has ordered it to do so. 
One possibility is that when it looks like a person is using search to research a potential purchase, Google could simply present the results as produced by its algorithm -- but also display a message like "Are you looking to buy a toaster? Click here to compare prices." A click would take the customer to a separate page that would display product listings, with pictures, brief descriptions and prices from shopping comparison engines and specific retailers, which would need to provide data in a single convenient format. The customer would be able to sort the offerings by price, delivery cost, delivery deadline, return policy or any other parameters on which online retailers compete. Then, whichever listing source a customer chooses would get a commission on the sale, which it would share with Google. Google could also continue selling product listing ads for that page, which would be clearly marked. 
I haven't looked at the economics of such a solution, but I suspect it would work out better than a dragged-out fight with the commission or billion-dollar fines. I would happily use this kind of impartial platform rather than Amazon as a starting point for product searches. 
It wouldn't be a cheap or easy solution. Google may be tempted to seek a less complex remedy, like reverting to a previous version of Google Shopping, but really, it should try a little harder. 
To contact the editor responsible for this story:
Therese Raphael at traphael4@bloomberg.net
Before it's here, it's on the Bloomberg Terminal.
LEARN MORE