Companies
Mylan Shareholders Tilt at Executive-Pay Windmill
It's one thing to rebel against a $97 million man. It's another to make it stick.
by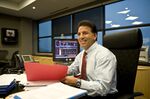 It's not every day that shareholders give thumbs down to a company's executive compensation package. 1  So I took notice when I saw that the shareholders of Mylan NV had done just that at the company's annual meeting on Thursday morning.
Last year, of course, was a miserable one for Mylan. Its EpiPen emergency injection kit became the latest poster boy for critics of high drug prices, including members of a congressional committee who ripped into chief executive Heather Bresch. The company was pilloried in the press. It agreed to pay a $465 million fine to the Department of Justice, and disclosed a number of lawsuits that had been filed and subpoenas issued. The stock dropped from $54 a share to under $40.
Given the circumstances, it's reasonable to expect that its top executives wouldn't be getting a raise. And, in fact, most of them saw their pay cut. Bresch's compensation, for instance, dropped from $18.9 million in 2015 to $13.8 million last year. Company president Rajiv Malik took an even bigger hit, as his compensation dropped from $19.9 million in 2015 to $8.7 million in 2016.
But then there was Robert Coury. Coury had joined Mylan as CEO from 2002 to 2011, at which point he became the executive chairman of the board, turning the CEO post over to Bresch, a long-time Mylan executive. His compensation last year as chairman was--are you sitting down?--$97 million.
That's $97 million for a board member. As executive chairman, Coury is more hands on than most board chairmen, but still. At Intel, board chairman Andy Bryant makes $4 million. Robert Keenan, the chairman of the board at Xerox, pulls down $235,000 for his labors. Arthur Levinson, chairman of mighty Apple, gets $552,000. The Pittsburgh Post-Gazette reported that Coury's pay not only made him the highest paid executive in the region—Mylan's headquarters, the Robert J. Coury Global Center, is located a half-hour outside Pittsburgh—but "it accounted for 23 percent of the $423.2 million that the region's 50 highest paid executives were paid last year."
It is any wonder that the two big proxy advisory firms, Institutional Shareholder Services and Glass Lewis, both advised shareholders to vote against the incumbent board members? ("We find the compensation arrangements made with Mr. Coury pursuant to his transition to be egregious," wrote Glass Lewis.) Or that a group of institutional investors led by Scott Stringer, the New York City comptroller, championed a move to oust six Mylan directors and vote down the pay package.
"Voting against the say-on-pay proposal sends a strong message to the Mylan board that it has failed in its responsibility and duty to its shareholders," said another of the pension upstarts, Anne Sheehan of the California State Teachers' Retirement System. Indeed, the pension funds calculated that when you include the vesting of prior stock options, Coury's pay was actually $160 million, not $97 million.
You will not be surprised to learn that this isn't the first time Mylan has shown itself to be exceedingly generous to its executive chairman. In 2014, his compensation was $25.8 million. In 2015, when Mylan bought a unit of Abbott Laboratories in the Netherlands—and in so doing became, in name at least, a Dutch company 2 —Coury was paid a bonus of $10.7 million. The company also picked up the taxes he would have had to pay as a result of the merger—a courtesy not shown to most of the company's other shareholders. His compensation that year was $17.7 million. According to Bloomberg, Coury has made $210 million in the time he's been executive chairman. (By contrast, Bresch has made $92 million as chief executive.)
And all the while, shareholders have complained. As Bloomberg also noted, opposition to the Mylan pay plan has consistently drawn opposition of around 30 percent—a high percentage, as these things go. In the six years since the Dodd-Frank financial reform law's "say-on-pay" rule gave shareholders a legal right to a nonbinding vote on executive pay, Mylan's shareholders have mustered a majority of "no" votes not once but twice. Last year, BlackRock Inc., the $5.4 trillion money manager, joined the dissidents.
Mylan, of course, defends Coury's pay, saying that much of it was triggered by his move from executive chairman to non-executive chairman. Part of the money is pay he accrued while still CEO, they say, while another piece of it is intended to insure that his "strategic vision" stays at Mylan until 2021. That explanation hasn't mollified many of Mylan's critics.
Not that there's much they can do about it. Mylan has an entrenched board—it takes a two-thirds vote to get rid of a board member. (Mylan hasn't released the vote totals so far, though it has said that all six directors were re-elected.) And of course say-on-pay is purely advisory. The company's board can ignore it if it chooses.
Given that Coury is still the chairman, non-executive though he may be, I'm betting that's exactly what the Mylan board will do.
To contact the author of this story:
Joe Nocera at jnocera3@bloomberg.net
To contact the editor responsible for this story:
Jonathan Landman at jlandman4@bloomberg.net
Before it's here, it's on the Bloomberg Terminal.
LEARN MORE