view
New Study, Old Story: Americans Cherish Their Guns
Three-fourths of gun owners agree that the right to own a firearm is "essential to their own sense of freedom."
by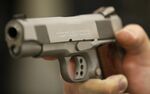 The Pew Research Center on Thursday released a new survey of American attitudes and practices related to guns. The poll, conducted in separate waves in March and April among almost 4,000 respondents, including more than 1,200 gun owners, offers some subtle insights into a highly polarized issue.
There continue to be areas of almost universal consensus on guns, such as preventing the mentally ill from purchasing them, requiring background checks on private sales and barring gun purchases by anyone on a no-fly watch list. (Just don't expect Congress to take action on any of those.) Even 54 percent of gun owners in the poll support a federal database to track gun sales, suggesting that the promulgation of anti-government paranoia by gun groups has yet to capture a majority of gun owners.
Yet much of the poll highlights a familiar cultural chasm. Among gun owners, 74 percent agree that the right to own a gun is "essential to their own sense of freedom." When so many Americans invest guns with such power, discussions about regulation are bound to get personal.
The Pew survey comes on the heels of news from the Centers for Disease Control that 19 children are shot every day in America. Another 5,800 are treated annually for a firearm-related injury. The poll helps us understand why.
Two-thirds of gun owners say they possess a gun for personal protection. The logic of fear requires a gun to be always at the ready; otherwise, you cede too much advantage to an imagined attacker. Sure enough, 43 percent of men who own guns and 29 percent of female gun owners say a loaded gun is always readily accessible.
Only about half of gun owners with children under 18 living at home say that all guns in their home are kept unloaded and in a locked place. Among gun owners with children at home, 30 percent say that a loaded gun is easily accessible in their home at all times.
According to the CDC study, younger children who die of gunshots are most often killed at home. Teens are about as likely to be killed on the streets as at home. The Trace, an excellent source of gun news, reported:
The homicides of younger children were often correlated with intimate-partner violence or a bystander situation. Deaths of older children were often related to crime, drugs, or gang-related circumstances. In terms of unintentional gun deaths, both younger and older children commonly died while playing with a gun. Childhood suicides, on the other hand, "were most often precipitated by acute crises and life stressors such as relationship, school, and crime problems."
"Gun homicides among children 17 or under have declined 36 percent since 2007," the Trace added, "but gun suicides have increased 60 percent."
The gun movement insists that more guns correspond to less gun violence. But suicide is sometimes a spontaneous act aided by access to a firearm, and state-by-state comparisons link more guns with more violence. The Pew report stated:
Gun owners are more likely than non-gun owners to know someone personally who has been shot (51 percent versus 40 percent of non-owners), and they are also more likely to report that have been shot themselves (6 percent versus 2 percent).
The poll doesn't attribute causation. Did gun owners buy a gun because they knew someone who had been shot? Or is it just that owning a gun, and socializing with others who own guns, increases the risk of gun violence?
Don't expect consensus on that question anytime soon. The Pew poll shows almost perfect division. About one-third of respondents agreed that if more Americans owned guns there would be more crime. Another third believed that if more people owned guns there would be less crime. And the final third? They said it probably wouldn't matter.
To contact the author of this story:
Francis Wilkinson at fwilkinson1@bloomberg.net
To contact the editor responsible for this story:
Jonathan Landman at jlandman4@bloomberg.net
Before it's here, it's on the Bloomberg Terminal.
LEARN MORE