Ritholtz's Reads
Killing Coal and Fending Off Insanity
Here are your morning reads.
by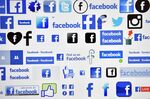 My Tuesday morning train reads:
Businesses Scale Back Investment in America (Bloomberg View)
The Web Makes It Harder to Read Market Sentiment (Bloomberg View), e.g., "It's Going to Collapse": 5 Scary Stock Market Predictions From Smart Investors (Time)
Media Companies Are Getting Sick of Facebook (Bloomberg Businessweek)
How to Take a Crazy Risk Without Going Insane (MoneyBeat); see also Retirement: Safety First (Barron's)
The destruction of political norms started decades ago. Here's how it happened. (Washington Post)
Solar Power Will Kill Coal Faster Than You Think (Bloomberg); see also The War on Coal States (Slate)
How to Deal With North Korea (the Atlantic)
Amazon's New Customer (Stratechery); see also Amazon Expanded Its Empire — And Its Place in Society (Wired)
The NSA Has Done Little to Prevent the Next Edward Snowden (Vice)
What are you reading?
Supreme Court to hear key case on partisan gerrymandering

Want to receive our daily reads in your inbox? Sign up here!
This column does not necessarily reflect the opinion of the editorial board or Bloomberg LP and its owners.
To contact the author of this story:
Barry Ritholtz at britholtz3@bloomberg.net
To contact the editor responsible for this story:
Brooke Sample at bsample1@bloomberg.net
Before it's here, it's on the Bloomberg Terminal.
LEARN MORE