Politics
'Witch Hunt' Dominates Trump's Twitter Feed
The president's campaign agenda takes a back seat.
by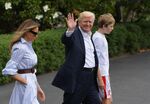 President Donald Trump's interest in his campaign promises seems to have waned as the investigation into Russian election-meddling gains momentum. In the week ended June 18, the Trump Twitter filter (explanation here) registered a decline in the president's attention to his stated goals, and zero movement toward them.
@realDonaldTrump produced 38 original tweets, a little above his weekly average for 2017. Here's how that looks:
Many were tirades against what Trump calls the "witch hunt" -- the U.S. investigation into alleged Russian efforts to influence the last presidential election, what Trump's administration might have known about them and whether he sought to obstruct justice. His preoccupation drew his attention away from campaign themes such as immigration and infrastructure, bringing his agenda-related tweet percentage down to 32, from 73 the previous week:
The relevance ratio would have been higher if I had counted several tweets on jobs -- specifically, on Trump's trip to Wisconsin, where he proposed investing more in private apprenticeship programs. I didn't because the proposal isn't directly related to the agenda he laid out during his campaign. Including them would have brought his on-agenda percentage to 42 percent, still down from the previous week.
Not many tweets reflected action on Trump's objectives. One criticized a federal judge's decision to uphold the stay on his travel ban -- a step back for the president. Another, lauding the passage of a bill that would make it easier to fire poorly performing Veterans' Affairs workers, represented movement toward Trump's vision of reform. A few on Cuba reflected moves to limit trade and travel. Altogether, the effectiveness ratio netted out to just 5 percent:
The Russia investigation could go on for years. Trump's ability to deliver on his agenda will depend a lot on whether he can get past the distraction.
To contact the author of this story:
Mark Whitehouse at mwhitehouse1@bloomberg.net
To contact the editor responsible for this story:
James Greiff at jgreiff@bloomberg.net
Before it's here, it's on the Bloomberg Terminal.
LEARN MORE