Europe
It's the Little Things That Redeem the EU
The abolition of roaming charges has been a typical Euromess -- but it's also something Brits could miss after Brexit.
by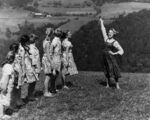 It is fitting, perhaps, that united Europe has just served up a rare treat to its citizens: They can now travel throughout the European Union without incurring mobile roaming charges. The move comes as the EU's popularity is increasing, and it's a tangible example of what U.K. citizens may end up missing after Brexit.
QuickTake The European Parliament
Roaming charges stopped applying on Thursday after a more than 16-year process that is vintage EU.
Regulators first started questioning the fees mobile operators charged intra-EU travelers as far back as 2000; the bills could be startling, reaching hundreds or even thousands of dollars in the still-numerous European currencies. Proceedings were launched against U.K. and German operators that imposed extortionate tariffs on companies from other European countries. It was one of the most egregious ways in which Europe, ostensibly a single market, was fragmented.
In the U.S., for example, people can stay within their home network anywhere they go, so there are no fee surprises. In Europe, every country has its own telecom regulatory framework, licensing and spectrum distribution system, so even companies operating under the same brand throughout the continent, such as Telefonica with its O2 brand or Vodafone, work through separate operators in every country. Because of different regulatory frameworks, living standards and usage patterns, their tariffs vary widely. Last year, the cheapest monthly package offering 1 GB of data, 600 minutes of calls and 225 text messages cost 8 euros ($9) in Estonia and 60 euros in Hungary. Roaming tariffs were as illogically different but always hefty; tourists and business travelers preferred to keep their phones off, buy local SIM cards or book special roaming deals with their providers.
Getting the national operators to scrap the surcharges was quite a cat-herding exercise. The European Commission set up a group of national telecom regulators to start looking into it in 2004. By 2006, it had a proposal for a regulation that would eventually abolish roaming charges. But mobile operators, who derived some 5 percent of their revenue from intra-European roaming, resisted the essentially populist pressure. In the intervening years, as roaming traffic grew exponentially, the Commission's efforts survived a legal challenge and countless rounds of negotiations. Meanwhile, the roaming tariffs were gradually lowered. Finally, in January, the European Commission and the European Parliament reached a political deal on the wholesale price operators in different countries would pay each other for traffic to allow their clients to roam. That made it possible to abolish the surcharges starting June 15.
Again in typical EU style, despite the triumphant announcement that Europeans can now "roam like at home," it's a bit messier than that. Several dozen of the continent's thousands of mobile operators have applied for national exceptions, saying they couldn't operate profitably without the roaming fees. Some, especially in Eastern Europe, have tried to ignore the new European rules. Many providers are introducing packages that will only work in a customer's home country. It'll take some time to get those kinks out of the system. My provider, however, has duly notified me that my home plan would apply throughout Europe, and for most customers, the charges are gone.
That, of course, is only the first step toward a single digital market in Europe. It'll be a long time before e-commerce can work as smoothly across national borders as it works across U.S. state lines. Even in the U.S., taxation differences create problems for such interstate business. In Europe, the need to deal with multiple postal services adds to the confusion created by the array of ideologically different tax regimes. Speech and personal data protections and copyright regulations also differ between countries. The diversity and fragmentation are among the reasons why Europe has been slower to develop big tech companies. As the example of roaming charges shows, it will be years before the EU can become borderless for tech-driven businesses and their customers.
But then, speed has never been enshrined as an important EU value. The union stands on compromise. The lack of instant gratification hurts the EU's image both internally and externally. The union looks vulnerable, inefficient, even shambolic while Europeans work on consensus decisions.
It turned out to be easy to sell impatience with the EU's unwieldy governance to Britons before last year's Brexit referendum. Now, they get almost two years of paying as much for calls and data in France or Italy as at home -- but in 2019, if the U.K. leaves the EU without a deal, surprise mobile bills will become reality for them again. It seems like a small thing -- smaller, at any rate, than the loss of the right to work in any EU country -- but it's an example of the kind of little things that one gets used to, and starts taking for granted, when living in the EU. 
It appears that since Brexit, Europeans have started noticing these little things. A recent Pew Research survey has confirmed the conclusions of the EU's own pollsters concerning a sharp increase in the union's popularity in member states compared with last year. Even in the U.K., its favorability is now at 54 percent. (Only battered Greece is an outlier, with just 33 percent favorable views of the EU). About half the people Pew asked said they'd support holding a referendum on their country's EU membership -- but only to affirm it. Small minorities everywhere favor an exit, and even in Greece, just 36 percent want to leave. 
Europeans are critical of how the EU handles some economic issues and the refugee crisis, but a median 55 percent of those surveyed in 10 EU members, including the U.K., states believe Brexit is bad for the U.K. Only in Greece and Italy, pluralities believe it will be good. 
All the EU needs to do to develop the momentum is to keep delivering more little conveniences for its citizens, like the abolition of roaming charges. When such successes are few and far between, voters start questioning the European project's usefulness. Perhaps the U.K.'s unwitting sacrifice will speed up the union's convergence.
To contact the author of this story:
Leonid Bershidsky at lbershidsky@bloomberg.net
To contact the editor responsible for this story:
Mike Nizza at mnizza3@bloomberg.net
Before it's here, it's on the Bloomberg Terminal.
LEARN MORE