Europe
Finland Provides a Reminder That Populists Can't Govern
Finnish nationalists crashed out of government after just two years -- like other European populist parties before them.
by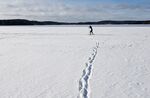 The narrowly avoided collapse of Finland's governing coalition shows why it's almost impossible for a populist force to be successful in Western Europe. The unsuccessful government experience of the nationalist, anti-European Union, anti-immigrant Finns Party (also known as True Finns) is in line with the results of experiments elsewhere in trying to integrate such parties into mainstream politics.
In the 2015 election, the Finns ran on a platform of curbing immigration and pulling Finland out of the latest Greek bailout. They won 17.7 percent of the vote and were invited into a coalition by the two political forces that got more support (if only just slightly more). As part of the government they have presided over Finland's acceptance of the latest, 86 billion euro ($96.3 billion) bailout package for Greece and a huge increase in immigration. In 2015, as a refugee wave swept Europe, almost nine times as many people applied for asylum in the Nordic country as the previous year. And though it's been harder go get refugee status in Finland than in Sweden or Germany, it was granted to four times as many people in 2016 as in 2015.
Far-right voters weren't impressed. The party's popularity has dropped to about 9 percent from a peak of 23 percent in the fall of 2015, at the peak of the refugee crisis. Then, in March, party co-founder and Foreign Minister Timo Soini announced he'd step down from the party leadership in June. He backed a relative moderate as his successor, but the party rank and file chose Jussi Halla-aho, a European Parliament deputy who once wrote on Facebook that Greece needed a military junta and tanks on the street, and who abhors third-world refugees, especially Muslims.
It's a natural reaction to the dropping poll numbers: The party needs to get its voters back. But since they aren't there for the Finns now, Prime Minister Juha Sipila of the Center Party and Finance Minister Petteri Orpo of the National Coalition wore big smiles as they announced their deal with the populist party was off. All they needed to get rid of the uncomfortable coalition partner was a pretext, and the election of Halla-aho provided it. Sipila explained that his party's values were simply too different from those of the Finns. 
On Tuesday, as Sipila drove to inform the country's president of the coalition's breakup, Soini's moderate supporters decided to split off from the party and form a separate parliamentary group that could stay in the coalition. Sipila agreed, though it means a smaller majority. And the Finns' electoral future is now in jeopardy -- at least for the next cycle.
The Finns should have known what joining the government would entail. In 1999, Austria's far-right Freedom Party, under Joerg Haider, won almost 27 percent of the vote in the national election and joined a governing coalition. The government survived sanctions from the rest of the European Union, where political leaders objected to Haider's far-right ideology, but it failed the test of power. In 2002, Haider's party split into a moderate and a hard-line wing, the government was dissolved, and the Freedom Party only won 10 percent of the vote. It has taken it a decade of rebuilding to become a contender for power again.
In the Netherlands, Geert Wilders' Freedom Party backed a center-right minority government in 2010. It lasted a mere 18 months. In 2012, Wilders withdrew his support after a long string of scandals within his party and months of unpredictable voting behavior. This caused an early election, in which Wilders' party dropped to 10 percent support from 15 percent in 2010.
As Austrian political scientist Reinhard Heinisch wrote back in 2003, soon after the Haider fiasco, populist parties are by nature better at showboating than at governing in the European coalition-based political framework:
Their nature as relatively de-institutionalized parties oriented towards charismatic personalities and as organizations seeking 'movement-character' while engaging in spectacular acts of self-presentation is a poor match for specific constraints of public office.
That doesn't necessarily mean these parties have no impact. Wilders has succeeded in shifting the Dutch center-right further toward an anti-immigration agenda. The Alternative for Germany party is now doing the same to the country's strongest party, Chancellor Angela Merkel's Christian Democratic Union. UKIP punched above its weight in getting U.K. voters to back Brexit. And if not for the Finns' rhetoric, Finland could have been far more open to refugees. 
These parties, however, would have needed to win an election outright to get anywhere close to implementing their radical agendas. In France, which unlike most European countries has a presidential system, the National Front's Marine Le Pen gave it a try this year and lost by a landslide, causing her party to enter a downward spiral and lose support in the legislative election that followed the presidential one. Elsewhere in Western Europe, an electoral majority for nationalists is hard to imagine -- simply because the political systems are too fractured and too compromise-oriented.
Meanwhile, the U.S. doesn't have similar protections in place and is showing Europe what can happen after a populist victory. The example hasn't been inspiring: In most major EU countries, the populist right is looking at poll losses. It's fine for these political forces to be a voice, even a somewhat influential one. But they can govern only where voters have relatively short memories.
To contact the author of this story:
Leonid Bershidsky at lbershidsky@bloomberg.net
To contact the editor responsible for this story:
Therese Raphael at traphael4@bloomberg.net
Before it's here, it's on the Bloomberg Terminal.
LEARN MORE