Brazil
Brazil's Judiciary Gives Itself a Black Eye
Playing politics with justice undermines the fight against corruption.
by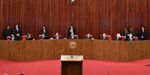 Amid spreading anger over corruption in Brazil's highest public offices, an anecdote has taken wing on social media. In it, a policeman acting on a tip nabs a thief fleeing a farmyard with a pig slung over his shoulder. "Ah, you should release me immediately," the clever robber protests, arguing that the witness had only seen him sneaking into the farmhouse, hence before any crime had been committed. "What do you think this is, you scum," the police answers, with a rap of his nightstick, "the electoral court?"
Brazilians needed no translation. Last Friday night, to widespread revulsion, the top electoral court cleared President Michel Temer and his predecessor, former President Dilma Rousseff, of serious crimes. The pig of the day: The 2014 election, which according to what one judge called "an ocean of evidence," Temer and Rousseff had stolen with dirty campaign money. A conviction would likely have cost Temer his job, and Brazil its second president in a year. Yet since much of the most damaging evidence was gathered after the suit had been filed, the country's highest electoral bench, by a 4-3 vote, saw no crime.
This is a blow to Brazil. Not only did one of the country's highest courts momentarily bolster a tainted leader, who is likely to divert what remains of his political capital to preserving his job, much to the detriment of pending reforms the country's economy desperately needs. The ruling also showed that the massive crisis of confidence tarring the county's governing authorities now threatens also to drag the judiciary into the sty.
Confidence in Brazil's judiciary is down to 29 percent, above the presidency and congress, but alarmingly behind the armed forces, the Catholic Church and the news media. Until recently the country's courts, alongside its federal police and public prosecutors, were seen both as the last honest brokers -- and a fleeting reminder that Brazil was still a country of institutions and not a cabal of amigos.
To hear the political chatter, much of the current imbroglio is down to a single, cantankerous judge, Gilmar Mendes, who presided over the case last week and cast the absolving vote. Also sitting on Brazil's Supreme Federal Tribunal, the highest court, Mendes is known as much for his loose lip, occasionally tongue-lashing fellow judges, as he is for the partisan company he keeps, including government higher-ups and Temer himself.
Last week, Mendes left his critics exasperated, if unsurprised, by arguing to exclude damaging testimony by former executives for Brazilian contractor Odebrecht SA, who had already admitted to decanting a fortune in bribes into the Rousseff-Temer 2014 campaign war chest. "I'm not going to be the gravedigger who buries living proof," protested Justice Herman Benjamin, who led the argument against Temer.
After all, Benjamin noted, Mendes had voted the other way in 2015, when he helped block a move to bury late-coming evidence against Rousseff, arguing that only the broadest investigation could determine whether she had broken campaign laws. (His vote helped pave the way for Rousseff's impeachment.) He did the same in April when the electoral court voted to widen the Temer trial, precisely to include new witnesses from the Odebrecht plea agreement. Such flip-flops have sometimes turned Brazil's highest court into a political minefield.
"Surviving Gilmar Mendes is a daily challenge," Conrado Hubner Mendes, a legal scholar, wrote recently in a scathing article on the Supreme Court. He branded the Brazilian high court a chronic "hostage" to Mendes's maneuvers and in "need of a strategy of damage control.
However mercurial Mendes may be, he's only a caricature of an institution cratered with quirks that distort the court's purpose while also exaggerating its importance. Consider the Supreme Court. Although conceived as a constitutional court, it has an impossible brief; it cannot refuse to hear a case and doubles as a criminal court for politicians, who enjoy immunity in lower courts. Hence, the 70,000 to 80,000 cases the court hears each year, leaving the vast majority to be decided not by the full bench but a single judge.
Worse, politicians often encourage the carnival by taking matters of ordinary legislation to court. "This is a flaw in institutional design. And it legitimizes the court's interference in politics," Michael Mohallem, a law scholar at the Getulio Vargas Foundation, told me. In a sense, the court can't help it. "The Supreme Court has instruments to rule and has acted within constitutional bounds," said Joaquim Falcao, the dean of Getulio Vargas Foundation law school. "The problem is the constitution."
"We like to tell ourselves that Latin America is becoming a region of institutions," Moises Naim, a distinguished fellow at the Carnegie Endowment for International Peace, recently told me. "What we forget is that institutions are not just buildings or a set of laws, but also a pattern of arrangements and commitments, which can change according to the crisis at hand." Last week's decision is a damning case in point.  
To contact the author of this story:
Mac Margolis at mmargolis14@bloomberg.net
To contact the editor responsible for this story:
James Gibney at jgibney5@bloomberg.net
Before it's here, it's on the Bloomberg Terminal.
LEARN MORE