Prophets
There Is Hope for Volatility-Starved Bond Traders
Traders face a heavy slate of potential market moving events.
by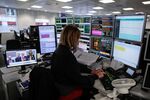 The stars were aligned last week for volatility-starved bond traders, with former FBI director James Comey testifying to the Senate Intelligence Committee about Russian meddling in the U.S. election, the U.K. holding a general election, and the European Central Bank announcing its decision on monetary policy.

That would have made for a packed month, let alone the one day they were all crammed into that those in the markets dubbed "Super Thursday." Alas, like some many other so-called pivotal weeks before, it turned out to be what many pundits called a "nothing burger." Bank of America Merrill Lynch's MOVE index, which measures anticipated volatility in the market for U.S. Treasuries, actually fell, keeping it at about its lowest level in years.



Or maybe volatility was subdued because traders were looking ahead to this week's heavy slate of potential market moving events. Usually played out over a series of three days, this week the U.S. Treasury Department will sandwich its quarterly refunding into two days, starting Monday, to accommodate the Federal Reserve's interest rate decision Wednesday. Also on Wednesday, the government will release its monthly consumer price index and retail sales data. The median estimate among economists surveyed by Bloomberg is that retail sales rose just 0.1 percent in May, while the CPI was likely unchanged. 

The Treasury market this year has confounded the bond vigilantes, which have placed some very heavy bets on significantly higher interest rates in what has become an annual rite. But even though the Fed prepares to boost the federal funds rate this week for the third time in seven months, 10-year Treasury yields have still managed to fall, collapsing to 2.20 percent at the end of last week from their March highs of 2.63 percent as first-quarter economic growth slowed to an anemic 1.2 percent annual pace and inflation unexpectedly slowed. 

The bond bulls will be severely tested this week. Things get started quickly with the Treasury Department auctioning $24 billion of three-year notes at 11:30 a.m. New York time today and $20 billion of 10-year notes at the normal 1 p.m. Tuesday will bring $12 billion of 30-year bonds. That's a lot of supply for the market to absorb in two days just prior to a likely rate hike. And not only that, those who choose to buy at the auctions will have to be comfortable with the risk that the retail sales and CPI data Wednesday morning won't be benign, coming less than six hours before the monetary policy statement from the Federal Open Market Committee. 

Before the start of last week's blackout period when Fed officials refrain from making comments in the run up to a monetary policy meeting, their statements confirmed the consensus in the market that the central bank would hike rates by another 25 basis points on Wednesday. They also gave no indication of wavering from their plan to boost rates a total of three times this year. Instead, the talking heads at the Fed emphasized their focus on the labor market's strength. 
While very short-term Treasuries accepted the inevitability of a June rate hike, longer maturity bonds that are driven by inflation trends and Fed policy further in the future continue to doubt how much more the central bank can tighten. That has flattened the yield curve, or the difference between short- and long-term rates, significantly and a sign that many economists see as a forerunner to a recession even if equity prices and corporate bond spreads say otherwise.

Although nothing on the bond calendar this week will come close to garnering the same television ratings as the Comey hearing, the events are very important to traders in that they have the potential to provide a bit more action to those volatility-starved trading desks.
To contact the author of this story:
Scott Dorf at sdorf7@bloomberg.net
To contact the editor responsible for this story:
Robert Burgess at bburgess@bloomberg.net
Before it's here, it's on the Bloomberg Terminal.
LEARN MORE