Early Returns
Local Elections Don't Make It Easy for Voters
Jonathan Bernstein's morning links.
by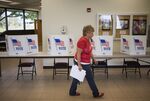 Saturday was election day in San Antonio, so I voted -- again. Only twice this time, in runoffs for mayor and in my City Council district. The results might be mildly interesting to national observers. In the mayoral election, incumbent Ivy Taylor was defeated after basing her runoff campaign on calling the challenger, Ron Nirenberg, an extreme liberal. Perhaps she was doomed anyway, but Nirenberg defeated her by 10 percentage points. Meanwhile, in my very Republican council district, a perennial Democratic also-ran (he challenged Lamar Smith for Congress back in 2006) upset a mainstream Republican for an open seat. San Antonio elections are nonpartisan, the city as a whole is probably marginally Democratic, and, in the mayoral race in particular, partisanship was more complicated than some might think, but still, if Republicans are looking for good news, they certainly didn't find it here.
Turnout, of course, was miserable, as it always is for these off-year, off-month elections. Nirenberg had championed consolidating city elections with national and state elections in November of even-numbered years when he was on the City Council; I hope he follows up on it as mayor. As for the statistics: This was the second election day for me of the year and of the two- and four-year cycle. I cast two votes, which gets me to 11 votes over those two election days. The French have been voting a lot this year (since it's their national election), but I'm pretty confident I've cast more votes than they have. 
1. Presidency scholar Andrew Rudalevige at the Monkey Cage on Donald Trump, James Comey and character. 
2. Also at the Monkey Cage: David Cutts and Tim Haughton on what we learned from the U.K. election. 
3. Lee Drutman at Polyarchy on citizens, groups and democracy. 
4. Rachel Sachs at Take Care is absolutely correct: Stealth legislation -- how Republicans are going about health-care reform -- isn't just (perhaps) undemocratic, but it's also a very bad way to put together public policy that will actually work. 
5. At Just Security, Steve Vladeck on the nonsense about Comey as a "leaker."
6. And Bloomberg's Eric Roston and Brian Eckhouse on the president's nutty plan to finance his border wall with solar panels.
Get Early Returns every morning in your inbox. Click here to subscribe.
To contact the author of this story:
Jonathan Bernstein at jbernstein62@bloomberg.net
To contact the editor responsible for this story:
Brooke Sample at bsample1@bloomberg.net
Before it's here, it's on the Bloomberg Terminal.
LEARN MORE