U.S. Economy
The Stanley Cup and NBA Finals of Economic Performance
Sorry, LeBron and Steph -- your cities are great, but the title goes to Pittsburgh and Nashville.
by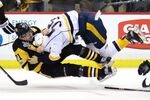 As the summer solstice nears, the two great North American "winter" sports leagues are getting close to determining their champions. For those who have had better things to do than pay attention, the Pittsburgh Penguins are currently leading the Nashville Predators 3-2 in the National Hockey League's best-of-seven Stanley Cup finals, while the Golden State Warriors have taken the first three games of the best-of-seven National Basketball Association Finals from the Cleveland Cavaliers.

"Golden State" is the name the San Francisco Warriors adopted in 1971 when they moved across the bay from San Francisco to Oakland. 1 They'll be moving back to San Francisco soon, and there's much debate over what they should do about the name. In any case, they are the professional basketball team of the San Francisco-Oakland-Hayward metropolitan statistical area and of the San Jose-San Francisco-Oakland combined statistical area. Which is of course why I have brought up the Stanley Cup and the NBA Finals: as an opportunity to do some regional-economy comparisons.

It's a promising foursome: two former Rust Belt manufacturing boomtowns that have been through some tough times since, although one of them (Pittsburgh) has been getting a lot of good press lately; the great (but reluctant) West Coast economic dynamo; and a Sun Belt metropolis enjoying its moment in the sun. First, here's how big they are:
As the name indicates, combined statistical areas combine adjacent metropolitan areas with close economic ties. As a product of the San Francisco Bay Area, I think the CSA (which includes not only the San Francisco and San Jose metro areas but also five smaller metros that border them 2 ) is a better reflection of the area's size and importance. But most economic data is released by metro area, so that's what I will use from here on. First up, employment growth:
Nashville's standout performance and Cleveland's dismal one aren't really surprises here. But Pittsburgh and San Francisco are interesting. I wrote a column last year about the gap between the hype about Pittsburgh's renaissance and the dull reality of its metro-area economic performance. But when you compare it to the base case of its neighbor a two hours' drive to the northwest (Cleveland), that performance looks pretty good. And while, yes, it's kind of unfair to measure San Francisco's performance from the height of the dot-com bubble in 2000, it's still pretty amazing that Pittsburgh's job growth outpaced San Francisco's from 2000 through mid-2013.

When it comes to per-capita income, though, it's San Francisco and then everybody else:
This seems to be pretty strong evidence for economist Enrico Moretti's argument that a few super-high-productivity metro areas are pulling away from the rest of the country. Pittsburgh and Nashville have caught up with and passed Cleveland since 1990, and Nashville gained ground on Pittsburgh, but it's remarkable how tightly packed the three cities' per-capita incomes have stayed compared with San Francisco's.
Then again, if you don't already own a place or have a rent-controlled apartment, even $79,206 a year isn't going to get you very far in the San Francisco area housing market.
It's interesting that house price gains in Nashville have at times approached those in San Francisco. Then again, San Francisco was starting from a much higher base, and as a result the median existing-single-family-home sales price in metro San Francisco in the first quarter of 2017 was $815,000 compared to metro Nashville's $232,200, according to the National Association of Realtors (metro San Jose led the nation at $1.07 million). Metro Cleveland's median was $126,100. The NAR doesn't have data for metro Pittsburgh, but real estate site Zillow estimates the median home value there at $136,300. Pittsburgh seems a little like the tortoise racing the hare here: Prices are low, and they haven't risen very fast. But they have tended to keep rising, even during the recent national real estate bust.
Finally, let's look at population change, and how it's happening.
Nashville is growing in every way. San Francisco is, too, although domestic migration -- while positive overall from 2010 to 2016 -- has turned negative lately. Pittsburgh, meanwhile, is shrinking in every way but through immigration from abroad, and it's not getting much of that. At 3.6 percent, the foreign-born share of the Pittsburgh-area population is quite low for a major metropolitan area. Cleveland's is 5.7 percent, Nashville's 7.6 percent and San Francisco's 30 percent, according to a Migration Policy Institute analysis of census data from 2011 through 2015.
So who wins in these economic comparisons? Well, clearly San Francisco and Nashville are doing better economically than their respective opponents. But San Francisco's success is problematic in lots of ways, mainly having to do with the area's inability and/or unwillingness to accommodate it with adequate housing and infrastructure. And Pittsburgh's slow growth still seems like something of a success, given the hand it was dealt. So I'd give the NHL cities the victory over the NBA cities here.
They had been playing occasional games in Oakland and in San Jose since moving to the Bay Area from Philadelphia in 1962, and in the 1971-72 season they actually had six "home" games in San Diego.
To contact the author of this story:
Justin Fox at justinfox@bloomberg.net
To contact the editor responsible for this story:
Brooke Sample at bsample1@bloomberg.net
Before it's here, it's on the Bloomberg Terminal.
LEARN MORE