Ritholtz's Reads
Threats, Risks, Feuds and Forecasts
Here are your morning reads.
by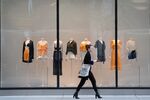 Start your week off bigly with our 4.3 percent unemployment rate morning train reads:
Be sure to check out our Masters in Business interview with William Sharpe, winner of the Nobel Memorial Prize in Economic Sciences and creator of the capital asset pricing model and the Sharpe ratio, a method for calculating risk-adjusted return.
MLB hitters bombing more home runs than steroid era

Want to receive our daily reads in your inbox? Sign up here!
This column does not necessarily reflect the opinion of the editorial board or Bloomberg LP and its owners.
To contact the author of this story:
Barry Ritholtz at britholtz3@bloomberg.net
To contact the editor responsible for this story:
Brooke Sample at bsample1@bloomberg.net
Before it's here, it's on the Bloomberg Terminal.
LEARN MORE