Climate Change
Trump's Paris Exit Is All Politics
The president spat in Europe's face but did little damage to Planet Earth.
by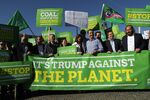 Amid the indignation at President Donald Trump's decision to take the U.S. out of the Paris agreement on fighting climate change, it's easy to forget that when the deal was being discussed in 2015, U.S. Secretary of State John Kerry -- who now has joined the indignant chorus -- insisted it shouldn't be a binding treaty: Otherwise the Obama administration would have to submit it to the Senate, which would immediately kill it.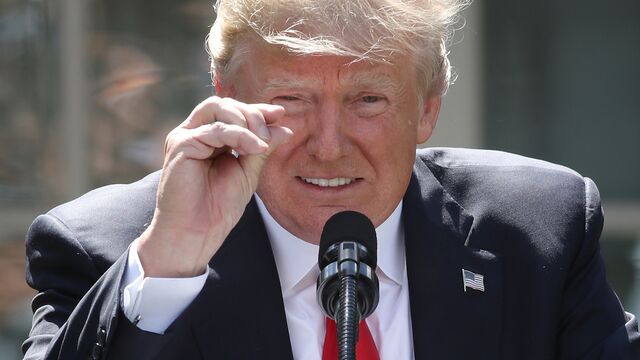 It was European Union nations, in particular France, that insisted on a binding agreement -- and, in the end, largely failed to achieve that goal. The agreement did not require ratification by the U.S. Senate because it's essentially a long-winded statement of intent to work toward mitigating climate change. All it requires nations to do is submit emission-cutting plans and, if they're wealthy, to help poorer countries meet their (rather nebulous) obligations under the 1992 Framework Convention on Climate Change. Trump was wrong when he said in his withdrawal speech that the U.S. faced a "massive legal liability if we stay in." In practical terms, not much was expected from the U.S. Not much has changed now that the expectation level has been reset to nothing -- the U.S. merely gave its European allies another rude shove to demonstrate they were on their own.
Goldman Sachs Chief Executive Lloyd Blankfein tweeted that Trump's decision was "a setback for the environment and for the U.S. leadership position in the world." The latter is apparent. French President Emmanuel Macron, who usually tweets in his mother tongue, unleashed an English-language tweetstorm. He called on U.S. engineers, scientists and entrepreneurs disappointed with Trump's decision to move to France and insisted it was time to "make our planet great again." Macron, German Chancellor Angela Merkel and Italian Prime Minister Paolo Gentiloni signed a joint statement condemning Trump's move and shot down his suggestion that the Paris deal would be renegotiated.
In response, an unnamed U.S. administration official told the Washington Post that the Europeans' disappointment was "a secondary benefit" of leaving the Paris accord. After a disastrous trip to Europe, where Trump quickly wore out his welcome and left the impression that he wasn't a reliable partner, his administration is doubling down on its contempt for the transatlantic alliance. That causes apprehension in Europe, but also encourages it to try a more independent course aimed at reducing U.S. hegemony. China appears to relish the rift; it has sided with Europe, announcing it would uphold the Paris deal.
Blankfein's assertion that Trump's withdrawal from the Paris accord would hurt the environment is, however, less of an obvious truth. Trump's rejection of domestic policies aimed at preventing climate change -- and not his exit from the toothless Paris accord -- is likely to hurt the environment in the U.S., temporarily freezing emissions at more or less the current level. Globally, though, this effect will be offset by huge progress in China and India, seen as holdouts when the Paris deal was being discussed. 
According to a report released last month by three European research and consulting institutions -- NewClimate Institute, Climate Analytics and Ecofys -- the two big developing economies are likely to be the main drivers of the global resistance to climate change. In China, carbon-dioxide emissions appear to have peaked more than 10 years ahead of its Paris commitment. Last year, two-thirds of the 5.4 percent electricity demand growth was met with power from renewable sources. With current policies, which China shows no intention of dropping, the country will overperform compared with Paris commitments. So will India. The two countries together are likely to reduce carbon-dioxide emissions by at least 2 billion tons by 2030, compared with forecasts made just last year. Compared with the same forecasts, Trump's policies will increase emissions by 400 million tons of carbon dioxide.
"The recent, highly adverse rollbacks by President Trump are unlikely to have a major impact on global emissions by 2030," the report concluded. 
One reason is that U.S. goals under Barack Obama weren't all that ambitious to start with. According to the European climate researchers, the Clean Power Plan and other Obama policies would have led, by 2025, to an emission reduction of 10 percent compared with the 2005 level. If the plan is stopped, emissions will be 7 percent lower than in 2005.
Even under Obama, the U.S. government had different priorities than the European sponsors of the Paris agreement. The Environmental Protection Administration's budget, which declined under Obama, is about 0.2 percent of total spending, compared with more than 15 percent that routinely goes to defense; Germany actually spends more on environmental protection than on defense. So the U.S. government was never going to have much impact on climate change. It's private business and specific states and cities, with tightening environmental regulations, that have been preventing emissions increases in recent years. Gas is still cheaper to use in energy generation than coal, and because sustainable energy is increasingly competitive thanks to technological progress. Trump is powerless to change that by exiting a rather loose international pact.
So while the political fireworks following Trump's speech appear justified -- the U.S. hasn't dissed Europe as much, and hasn't been as careless about its international role, under any post-World War II president -- the fight against climate change hasn't suffered much of a setback. It'll survive Trump. 
To contact the author of this story:
Leonid Bershidsky at lbershidsky@bloomberg.net
To contact the editor responsible for this story:
Therese Raphael at traphael4@bloomberg.net
Before it's here, it's on the Bloomberg Terminal.
LEARN MORE