U.S. Economy
America Has Had Enough of Cars and College
We're driving our cars longer. We're deep in student debt. Is there a crisis ahead?
by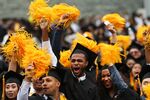 The two financial-market sectors in the U.S. that most often get tagged as the site of "the next subprime crisis" are auto loans and student loans.
I'm dubious that either is about to unleash another global financial cataclysm. For one thing, both involve far less debt than the 2008 mortgage market. 1 For another, neither is characterized by what economist Hyman Minsky called "Ponzi finance." People got home loans in the 2000s that they could only possibly pay off if the price of the house kept increasing, allowing them to sell for more than the value of the loan or do a cash-out refinancing. That is, a flow of new entrants into the Ponzi scheme (home buyers) was required to keep it going, and once that flow stopped, collapse was inevitable. I have trouble envisioning how something like that could transpire in auto loans or student loans. With rare exceptions, cars are expected to lose value over time, while educational services, once purchased, can't be sold to someone else. 2
The excesses and recent troubles of the auto- and student-loan markets could well be telling us something ominous, though, about demand for new motor vehicles and for higher education. Here, using the consumer spending data released Monday by the Bureau of Economic Analysis, is what spending in the two categories has looked like for the past 17-plus years.
Consumer spending on new cars and light trucks clearly has a big cyclical component. Motor vehicles are big-ticket purchases that last for years. When times are tough, purchases can be postponed. In December 2007, spending on new cars began a steep decline that coincided with the beginning of the recession. There's been another decline since last October, but it hasn't been very steep and may signify nothing at all. Higher education is of course a big-ticket item as well, but spending on it actually rose during the recession, presumably partly because people who couldn't find jobs were staying in or going back to school and partly because the nation's college-age population hit an all-time high during those years (now 26-year-olds appear to be the biggest one-year cohort). In keeping with both those explanations, real higher-education spending has declined since 2011 even as the economy has strengthened.
Now let's look a few decades further back, this time using the metric of spending as a share of total consumer expenditures (the detailed real consumer expenditures data available from the BEA only goes back to 1999):
New motor vehicles have been commanding an ever-shrinking share of consumer spending, with downs and ups around recessions but much more subdued ups than in the pre-1980 good old days. The most obvious explanation is that cars have gotten better and relatively cheaper. People keep their vehicles longer, and used cars have become much more attractive alternatives. Net spending on used motor vehicles rose sharply in the 1980s and 1990s, although it's been flat as a share of total consumer spending (hovering around 1 percent) for the past decade. More recently, a decline in auto use (measured in per-capita vehicle miles traveled) has probably been weighing on sales, although it's still too early to tell if this marks a sea change or just a really bad post-recession hangover. The defining industry of 20th-century America isn't going away, but its relative economic importance has been declining for decades and will most likely keep doing so.
With higher education, meanwhile, the decline in spending share since 2011 seems like it might mark the end of a long, long boom. Yes, there was that strange drop in the 1970s, just as the peak of the baby boom was hitting college age: Tuition per student declined in those years on an inflation-adjusted basis, which I guess can be attributed to big increases in state and federal higher-ed aid and an acceleration in overall inflation rates so dramatic that once-a-year tuition hikes couldn't keep up with it.
This time around, it's a lot harder to see what would cause consumer spending on higher ed to resume its rise. The college-age population is due for a long decline. Private colleges and universities are already selling their services at discounts that get bigger every year. Would-be low-cost disrupters of the current higher-education business model lurk around every corner (although, admittedly, people have been saying that for a decade now and not a whole lot has been disrupted yet). And then there's that $1.4 trillion in student loan debt. Something's got to give, right?
This column does not necessarily reflect the opinion of the editorial board or Bloomberg LP and its owners.
(
Corrects amount of 2008 mortgage debt in first footnote.
)
Motor vehicle loans outstanding totaled $1.1 trillion in March, according to the Federal Reserve Board, while student loans added up to $1.4 trillion. Mortgage debt in the U.S. peaked at $14.8 trillion in the second quarter of 2008 (and was back to $14.3 trillion as of the end of last year).

I guess if income-share agreements, in which investors pay students' tuitions in exchange for a share of post-college earnings, became much more common than they are today, and an aftermarket developed in which investors bid up the price of those contracts to dizzying heights, you could have a Ponzi-finance situation. But we're nowhere near that now.
To contact the author of this story:
Justin Fox at justinfox@bloomberg.net
To contact the editor responsible for this story:
Brooke Sample at bsample1@bloomberg.net
Before it's here, it's on the Bloomberg Terminal.
LEARN MORE