Editorial Board
Prepared Food Should Come With Calorie Counts
The FDA is wrong to delay mandatory nutrition labeling.
by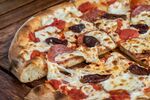 Americans who would rather not know how many calories are in their Slurpee -- no one's judging, it's an understandable impulse -- can thank the Food and Drug Administration, which has delayed a rule that would have told them. But it's still valuable information that should be easier to find.
The FDA's requirement for calorie labels in chain convenience stores, supermarket prepared-food aisles and restaurants were supposed to take effect earlier this month. Shortly before the labels were to be posted, however, the agency announced a postponement.
It's difficult to believe that very many stores and restaurants weren't ready. Congress passed the label requirement more than seven years ago, as part of the Affordable Care Act. Many grocery stores, responding to what their customers want, have gone ahead and posted calorie labels despite the delay.
A more plausible explanation for the holdup is the Trump administration's eagerness to lift "burdens" from Big Food as it has been doing for the oil, gas, coal, telecommunications, firearms, finance and other industries. The year's wait comes with a request for comments from grocers, pizza chains and others on "how we might further reduce the regulatory burden." The obvious threat is that the FDA may also decide to weaken the rule, as many grocers and convenience store operators have already requested.
Some grocers would like to provide the information at the checkout counter rather than on labels next to the food, for instance. Some pizza chains would like to do away with the requirement that calories be displayed both on their websites and at the store.
But this would mean that many customers never see the information. And that could lead them to make more fattening selections -- to pass over the blueberry muffin for the chocolate-chip, for example, which has 400 more calories.
Opponents of menu labels argue that calorie labels don't necessarily lead people to make more healthy choices. And it's true that there aren't any large-scale, conclusive studies on the question. But some big studies suggest that nutrition information can have its intended effect. And regardless, it's information that consumers should know.
Another unfortunate possibility is that the FDA might succumb to pressure from the food industry to postpone for three years the new "Nutrition Facts" labels that are scheduled to be on all packaged foods by July 2018. These are the labels that will display calories in boldface and require that "total sugars" be accompanied by values for "added sugars" -- so that buyers can know how much of the sugar in their food wasn't naturally present but was added purely for taste.
Scott Gottlieb, the new head of the FDA, has expressed sympathy with complaints about the difficulty of complying with new labeling rules. Given the links science has drawn between added sugars and obesity, diabetes, heart disease and tooth decay, however, he owes it to consumers to make nutritional information as accessible as possible -- and sooner rather than later.
--Editors: Mary Duenwald, Michael Newman
To contact the senior editor responsible for Bloomberg View's editorials: David Shipley at davidshipley@bloomberg.net .
Before it's here, it's on the Bloomberg Terminal.
LEARN MORE