White House
Solving Problems the Trump Way (It's a Problem)
The personal touch could work for a real-estate developer. For a White House under investigation? No.
by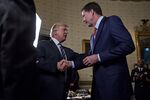 If you happen to be the U.S. president, and if your team is being investigated by law-enforcement officials, it's probably not a great idea to try to charm, threaten or possibly bulldoze the person running the investigation. If the lead investigator signals that he's keeping his distance from you, it's probably not a great idea to ask other officials to try to undermine him.
Unless you're Donald Trump.
Trump's approach to problem-solving has always been personal, reliant on face-to-face contact and his persuasive powers to get what he wants or to get him out of trouble. In his days as a real-estate developer and casino mogul, it sometimes worked. As president? Not so much.
Old habits and a longstanding disdain for rules -- as well as an obsession with the probe of his presidential campaign's possible collusion with Russia -- are probably the best way to understand Trump's apparent attempt to co-opt his former FBI director, James Comey, and, as the Washington Post reported earlier this week, a pair of his senior intelligence officials.
Trump's uncomfortable attempt to hug Comey at a White House event on Jan. 22 was the first time the president stretched the boundaries a bit. It escalated from there.
Here's the sequence of events. On Jan. 27, Trump and Comey had dinner at the White House and, Comey supporters say, Trump asked for a loyalty pledge (Trump denies this). On Feb. 14, Trump asked Comey to drop the Russia-related investigation of National Security Adviser Michael Flynn, who had resigned the night before, according to a Comey memo (Trump denies this). During a congressional hearing on March 20, Comey confirmed the Russia investigation. After Comey's testimony, Trump asked his director of national intelligence, Daniel Coats, and the director of the National Security Agency, Admiral Michael Rogers, to say publicly that they hadn't seen any evidence of collusion during the 2016 campaign. They refused.
On May 2, Trump zinged Comey on Twitter; Comey reconfirmed during a congressional hearing the next day that the Russia investigation was moving along. Trump fired him six days later.
It's clear now that Trump thinks that because he's president, he can reach out and touch whomever he wants to, and bend them to his will. That's how he's always approached things.
When Trump wanted to refurbish the old Commodore Hotel near Grand Central Station in Manhattan during the late 1970s, he personally lobbied city and state officials for tax breaks. In one case, Trump visited Richard Ravitch, a well-regarded scion of a major New York builder who was running a state agency that shaped tax policy. Trump enraged Ravitch after he threatened to get Ravitch in trouble with his bosses if he didn't support a tax abatement.
Trump ended up getting the abatement.
When Trump first entered the Atlantic City gambling market in 1981, he made a point of contacting the Federal Bureau of Investigation directly to ask agents for advice on how to run a Mafia-free business. On the face of it, the inquiry was innocent enough but for the fact that two of Trump's early business partners in Atlantic City were mobbed-up -- and one of them, unbeknownst to Trump, was a source for the same FBI agent Trump was contacting.
Echoing his more recent lobbying of Comey, Trump met with the FBI again two months later, offering to allow undercover agents into his casino "to show that he was willing to fully cooperate with the FBI," according to an FBI memo from the time. Trump also asked an FBI case agent to "introduce him to appropriate officials in the FBI with whom he could discuss" the wisdom of being in Atlantic City.
Three months later, Trump told the FBI that he had personally visited the head of one of New Jersey's primary casino regulators to discuss similar issues. At some point during those conversations, FBI agents had to tell Trump that they couldn't be "references" for Trump's Atlantic City partner.
Gambling regulators in New Jersey eventually forced Trump to buy out those early partners.
Back in New York City during the 1980s, Trump repeatedly brawled with Mayor Ed Koch to get a tax abatement for Trump Tower, and then zoning variances for a large tract of land he was trying to develop on the West Side. When Koch wouldn't grant the abatement, Trump sued him for it (successfully). When Koch wouldn't rezone the West Side tract, Trump fired off memos to him directly and then went to battle with him in the media over the issue (unsuccessfully).
On another occasion, when courts stopped him from tearing down a building at 100 Central Park South to protect rent-regulated tenants living there, Trump accused a state housing regulator of conspiring against him. He then personally called the state inspector general to ask him to investigate the housing agency. And the investigator did -- for about five days, before dropping the whole thing. (The tenants got to stay.)
Back when Trump used to joust with Atlantic City politicians and regulators, one of his key attorneys and advisers was the late Patrick "Paddy" McGahn, an ex-Marine who had won several medals for bravery during the Korean War. McGahn, a local power broker, helped get his brother elected to the state senate in New Jersey and the pair played instrumental roles getting casino gambling legalized in Atlantic City.
McGahn did things like fete local politicians when Trump needed parking enhancements at a casino. On another occasion, according to Wayne Barrett's book, "Trump: The Greatest Show on Earth,"  he masked Trump's purchase of a local nightclub from a pair of mobsters by putting the title to the property in his secretary's name. Trump named the cocktail lounge in one of his casinos after McGahn, but he later fired him.
McGahn's nephew, Donald, grew up in Atlantic City and went to law school not far away, at Widener University. Donald McGahn, an expert in election law, is now the White House counsel.
It's unclear what kind of legal guidance McGahn has been giving the president about how best to interact with federal law enforcement agencies like the FBI, or with career civil servants who populate the nation's intelligence services.
What is clear is that McGahn appears to have acted a little bit more like an old-fashioned ward heeler, scrambling to protect his boss, than as a strong-minded counselor prepared to steer the president away from legal peril.  
On Jan. 26, Sally Yates, the acting attorney general at the time, told McGahn that Flynn had lied to the White House about his contacts with a Russian official. McGahn invited her back the next day and asked Yates why the Justice Department cared if White House officials were lying to one another. Yates told him that it would possibly give the Russians some leverage over the White House if they were able to blackmail Flynn.
(As it turned out, as the Washington Post also reported, the White House had known for weeks that Flynn had misled it about his communications with Russia -- and neither McGahn nor Trump apparently felt alarmed enough to force Flynn out.)
Trump and Comey dined together on Jan. 27, the evening of Yates's second conversation with McGahn. Trump fired Yates three days later, after she ordered Justice Department lawyers not to enforce the president's travel ban targeting seven mostly Muslim countries. The White House also later tried to block her from testifying before the House as part of its examination of ties between the Trump campaign and Russia.
What the president has to contend with now, and what he didn't have to contend with in decades past, are the institutional constraints and legal obligations surrounding him as president. Reaching out and touching the people who enforce federal laws and oversee the national security apparatus isn't the same as angling for a tax abatement, and the consequences for doing so may be more dire.
To contact the author of this story:
Timothy L. O'Brien at tobrien46@bloomberg.net
To contact the editor responsible for this story:
Jonathan Landman at jlandman4@bloomberg.net
Before it's here, it's on the Bloomberg Terminal.
LEARN MORE