Companies
Ford Sees New CEO as Second Coming of Alan Mulally
A search for another Superman turns into a bromance.
by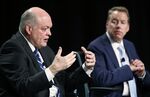 Alan Mulally was always going to be a hard act to follow.
Joining a deeply troubled Ford Motor Co. from The Boeing Co. in 2006, Mulally donned his Superman cape and led one of the greatest comebacks in American business history. As Ford's chief executive, he not only made Ford hugely profitable. He also revived employee morale, turned a backstabbing culture into a collaborative one and replaced secrecy with openness. Oh, and the stock? It generated annualized returns of 10.4 percent during his eight-and-a-half year tenure.
As Mulally's chosen successor, Mark Fields, the chief operating officer, would surely grab the baton from his predecessor and keep running in the same direction.
Except it didn't work out that way. In the wake of Fields's abrupt firing on Monday, what was most remarked upon was the pounding the company's stock had taken during his three years in the top job, dropping some 36 percent.
But I don't think that's the real story, or at least not the whole story. The strong sense I got after sniffing around is that Fields's biggest problem was that he wasn't, well, Alan Mulally. Decision-making, so efficient when Mulally was CEO, had slowed to a crawl, even as General Motors Co. was making bold moves like getting out of India. The board had come to feel that the company wasn't executing the way it needed.
Fields was trying to oversee too much, directors felt -- he had nearly two dozen direct reports (GM boss Mary Barra only has a handful). Executive squabbling had returned. And Fields was too focused on the future -- self-driving cars! -- and not enough on selling cars and trucks in the here and now. Indeed, just prior to the annual meeting 1  two weeks ago, the board set aside extra time to grill Fields on his strategy.
Yet despite the board's growing dissatisfaction, he would likely still have his job except for one remaining factor: Bill Ford had found his new Alan Mulally. That was James Hackett, whose promotion to CEO was announced at a press conference Monday morning.
In a number of the stories about Hackett, he was described as a turnaround specialist. That's true as far as it goes. At Steelcase Inc., the Grand Rapids, Michigan, company where he spent most of his career -- the last two decades as chief executive -- Hackett took a struggling office-furniture company and modernized it. In 2014, soon after retiring from Steelcase, he agreed to serve, temporarily, as the athletic director at the University of Michigan, where he again turned things around. 2
But that alone would not have gotten him the job. Like Mulally, Hackett appears to have the ability to inspire people. "He expects you to call him by his first name, no matter who you are," said John Bacon, a Michigan author who has written about Hackett. His tenure at Steelcase showed not just that he could turn a company around but that he could operate it over time. Indeed, people who have worked for him describe his management style as similar to Mulally's.
For years, Steelcase owned a majority stake in IDEO, a hip Palo Alto design firm, and because of that relationship, Hackett has close ties to many top Silicon Valley executives. Those bona-fides will be helpful as Ford tries to show that it's a worthy competitor to Tesla, Google and Uber in the "autonomous car" space.
Most importantly, Bill Ford and Hackett go back a long way, as one might expect of two men who have long been elite executives in Michigan. In 2013, Ford asked Hackett to join the Ford board, and the more time he spent with the retired Steelcase CEO -- the more he saw Hackett's business chops -- the more he liked what he saw.
Last year, he asked Hackett to take charge of the company's new "Smart Mobility" subsidiary, which the board had formed in an effort to catch up with Tesla and the others. Though the move required Hackett to resign from the board, he agreed.
To put it bluntly, Ford fell hard for Hackett, just as he had once done with Mulally. What was most noticeable about the press conference Monday was how comfortable Ford and Hackett were with each other. "I've known him for a long time," said Ford. "He and I think very much alike."
"Bill is going to be a sounding board for me," said Hackett. "A co-conspirator. I've already asked him to take two things off my plate."
The two men agreed there was much work to be done. Now all that's left is for Hackett to put on his Superman cape.
Having written my last column about whether in-person annual meetings were passe, I'd like to point out that Ford's 2017 meeting was online-only. Although defenders of in-person meetings fear that executives will be able to avoid unfriendly questions when a meeting is online-only, Bill Ford went out of his way to read -- and answer -- tough questions that had been emailed in.
To contact the author of this story:
Joe Nocera at jnocera3@bloomberg.net
To contact the editor responsible for this story:
Jonathan Landman at jlandman4@bloomberg.net
Before it's here, it's on the Bloomberg Terminal.
LEARN MORE