Jobs
Some States Are Hogging All the Information
Newspaper work has long been disappearing everywhere. But new-media jobs are only being created in a few places.
by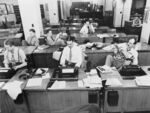 I'm just back from a few days in lovely if perhaps overly restaurant-obsessed Portland, Maine. My abode while there was a new boutique hotel built in the former home of the local newspaper, the Portland Press Herald. It's called the Press Hotel, and its owner has gone all in with the news theme. There are old typewriters everywhere, the color scheme is dominated by newspaper blacks and whites, and:
Guest floor hallways are adorned with real Press Herald headlines from yesteryear, such as "Elderly lobster set free," "Honest warden, the doe really had an antler" and "Man yanks skunk from jar, runs."
The hotel's meeting rooms are named the Composing Room, the Editorial Room, the Press Room and the News Room. I wrote much of Thursday's column (it's about Maine lobsters) in the News Room. When the hotel's head of sales and marketing stopped by to tell me I had to vacate the room soon because somebody had booked it for a meeting, he seemed charmed to learn that actual journalism was being committed in the News Room.
Ah, the news -- it's just so adorably quaint! And really, it is getting to be a pretty archaic endeavor in places like Portland. The Press Herald still exists; it moved to smaller quarters nearby in 2010. But like almost all local papers, it is a much-diminished enterprise. Overall employment at newspaper publishers in Maine has fallen from 2,526 in 2001 to 1,291 last September, according to the Bureau of Labor Statistics.
Still, newspapers are yesterday's news, right? The future is in other forms of media, other forms of information-crunching. But in cities like Portland, those aren't exactly springing up to take newspapers' place. Instead, the news industry is becoming more and more concentrated in a few big metropolitan areas. I've written before about this phenomenon, and last month Politico's Jack Shafer and Tucker Doherty produced a remarkable documentation of where newspaper, broadcasting and internet publishing jobs have shifted over the past decade. The April state jobs numbers are out today, so I thought I'd take the opportunity to slice things in a different way.

Newspapers are part of the broad North American Industry Classification System category called information. This sector includes not only magazine, book and internet publishing, broadcasting and movie making, but also data processing, software, "web search portals" (these category names can get dated fast) and telecommunications. The latter can muddy the data, given that parts of the telecom industry have more in common with utilities than with the rest of the information sector. But with AT&T and Verizon trying to reinvent themselves as media companies, it's not as different as it used to be. On the whole, the NAICS information category seems like a reasonable proxy for what we think of as the information sector. Plus, for less populous states such as Maine, the BLS doesn't break things down more finely than that in the monthly employment report anyway. So here's employment in information in Maine, going back to 2005:
Here's what things have looked like in California, the headquarters of the new information industry:
Those are pretty different trajectories! To approach things a bit more systematically, I sorted out the states (and territories) where the information sector makes up the highest percentage of nonfarm payroll employment. 1 The top eight, in descending order, are Washington, California, New York, Colorado, the District of Columbia, Utah, Georgia and Massachusetts -- all of which are hotbeds of either traditional media, new-style information industries or both. After that, things get a little weird: Puerto Rico, Alaska and the Virgin Islands came in places nine, 10 and 11. So let's just call the top eight the "information states," and see how information-sector employment has fared there compared with in the rest of the country.
Sure enough, while most of the country has been shedding information jobs, the states where they were already concentrated have been adding more. This should not come as a huge surprise. It is in the nature of modern knowledge industries to concentrate and agglomerate. But given this particular industry's influence on what we read and watch and think, it's still unsettling.
This column does not necessarily reflect the opinion of the editorial board or Bloomberg LP and its owners.
I used third-quarter 2016 data from the Quarterly Census of Employment and Wages because it was easier to get at than the latest establishment survey data.
To contact the author of this story:
Justin Fox at justinfox@bloomberg.net
To contact the editor responsible for this story:
Brooke Sample at bsample1@bloomberg.net
Before it's here, it's on the Bloomberg Terminal.
LEARN MORE