view
May and Corbyn Get Honest, Except on Brexit
Both parties' manifestoes make clear their intentions on taxation and spending, but avoid the big question.
by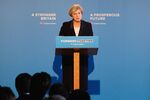 Say at least this for the manifestoes that the Conservative and Labour parties have presented this month: Some honesty has returned to British politics as far as tax and spending decisions are concerned. This would be a cause for celebration were it not for an additional detail: When it comes to Brexit, the U.K.'s main parties are yet to wake up to reality.
The Labour manifesto is exactly what you would expect from a radical left-wing leader such as Jeremy Corbyn: hit high earners, increase spending and nationalize industries. Whether this plan will reduce inequalities, as the Corbynistas believe, or simply drive away businesses from the U.K. is up for debate. What is not disputable is that if you want more day-to-day spending, for example to pay for universal free education, you will need to raise taxes eventually.
Labour wants a steep increase in corporation tax and higher taxes for those earning more than 80,000 pounds ($104,000). This will almost certainly be insufficient to fund all Labour's promises, but it is an indication of the kind of trade-offs voters should choose from.
The Conservatives are also taking steps towards realism. Theresa May has scrapped the ludicrous pledge made by her predecessor David Cameron that the Tories would not increase any of the three headline taxes -- income tax, national insurance and VAT. She has also removed the "triple lock" on pensions, saying state pensions will rise by whichever is higher, inflation or earnings, but not by at least 2.5 per cent as previously promised. This will give the Tories some leeway to fund promises such as increasing defense spending. Whether or not this is what voters want – it will be up to them to decide.
Are Corbyn and May more honest than their predecessors? Not so fast. Britain's mainstream parties are being more realistic simply because the general election is not particularly competitive. With the Tories so far ahead in the polls, May fears that any lavish, unfunded promise will come back to haunt her. This situation is different from the one Cameron was facing ahead of the 2015 elections. Back then, polls showed the Tories would likely govern in coalition, meaning they could water down their manifesto later.
On the other end of the political spectrum, Labour knows its chances of winning are slim. Instead of muddying his message in an attempt to woo centrists back, Corbyn concentrates on a classic tax-and-spend message to galvanize his core supporters (helpful in repelling another leadership challenge after the June 8 vote).
The main problem with the two manifestoes is that they are not honest where it is most needed. On Brexit, both the Tories and Labour are trapped in fantasies of their own making. Labour agrees that Brexit means the end of the freedom of movement of labour, but adds it will try to retain the benefits of the single market, without explaining how the other freedoms preserved. As EU leaders have made it clear repeatedly, the U.K. will not be able to pick and choose what it should get from Europe.
The Tories at least say more openly they will target a "hard Brexit," whereby Britain will leave both the single market and the customs union in exchange for greater control over immigration. But the costs of this clean break from Europe are not sufficiently spelled out. For example, there will be a price to be paid from reducing immigration, which May has conveniently brushed aside.
If this election were a normal one, both Labour and the Tories would deserve some credit for honesty. The trouble is that it isn't a normal election. The single most pressing issue for the next government will be Brexit. Britons will go to the polls without knowing what they are really voting for.
To contact the author of this story:
Ferdinando Giugliano at fgiugliano@bloomberg.net
To contact the editor responsible for this story:
Therese Raphael at traphael4@bloomberg.net
Before it's here, it's on the Bloomberg Terminal.
LEARN MORE