U.S. Economy
States Where the Economy Isn't Struggling to Recover
They don't have much in common -- but they're all west of the Mississippi.
by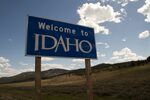 The U.S. economy isn't growing very fast these days. Some state economies are, though! The fourth-quarter state gross domestic product data, out Thursday from the Bureau of Economic Analysis, has Texas, Utah, Florida and Washington leading the way, all with annualized real GDP growth of more than 3 percent in the fourth quarter. Also growing at faster than 2.5 percent: the District of Columbia, California, Idaho and Oregon. 1

That's the fourth quarter. Here are the states that had the fastest-growing economies over the course of the full year:
And here are the ones with the slowest growth, or outright shrinkage:
So the West was booming in 2016, and states with a lot of coal mining or oil and gas extraction weren't. The latter did begin to turn things around in the fourth quarter, though.

Now let's take things back to the beginning of the current economic recovery, which is semi-officially deemed to have begun in June 2009. Here are the states that have seen the most economic growth since 2009:
And here are those that have seen the least:
This is more of a mixed bag. Some oil and gas states (North Dakota, Texas, Oklahoma) are doing great, while others (Louisiana, Alaska) languish. Also, several different regions of the country are represented in each list, and some in both.

Finally, here's how things have gone since the turn of the millennium. I tend to see this as one long economic era of slow GDP growth, weak labor demand, stagnant productivity and declining business dynamism -- interrupted in the middle by a giant financial crisis. But some states boomed nonetheless:
Here are the laggards since 1999:
North Dakota's performance is of course amazing, with its GDP more than doubling in size since 1999. It's a state with an already healthy economy (see South Dakota's growth since 1999 to get a rough idea of how healthy) that suddenly found itself in the middle of an oil-drilling boom. And while North Dakota had an awful 2015 and 2016 because of the oil bust, things seem to be righting themselves, with annualized real growth of 1.4 percent in the fourth quarter.

Michigan is another interesting case. It had a terrible 2000s -- real GDP fell 12 percent from 1999 to 2009 -- only to rebound big-time in this decade. Yes, that heartwarming Detroit comeback saga is backed up by the economic data.
Then there are the states that show up among the laggards or the leaders over all three time periods. The perennial laggards are Louisiana, Mississippi and West Virginia -- poor states that keep finding ways to stay that way.

The perennial leaders have been California and Utah, two states without a whole lot in common other than mountains, saltwater lakes and the tech industry. Texas kinda sorta belongs on the leader list, too, given that it didn't miss the 2016 top 10 by all that much (it came in 17th place), and it had the country's fastest-growing economy in the fourth quarter. So ... three states, two red, one blue. One of the country's highest-tax states (California), one of the lowest-tax states (Texas), and one in the middle (Utah). All west of the Mississippi. All economic powerhouses. Got a simple explanation for that? 2
Yeah, I know D.C. isn't a state. But it's undeniably part of the U.S., and it's more populous than Vermont and Wyoming, so I tend to include it.

Here at Bloomberg View, Matthew Winkler had a column earlier this week exploring California's economic success, Megan McArdle wrote in March about Utah's remarkable record at getting people out of poverty, and I wrote last year about the economic strengths that California and Texas share.
To contact the author of this story:
Justin Fox at justinfox@bloomberg.net
To contact the editor responsible for this story:
Brooke Sample at bsample1@bloomberg.net
Before it's here, it's on the Bloomberg Terminal.
LEARN MORE