Foreign Policy
Tillerson Didn't Say What McCain Said He Said
Read the transcript: The secretary's speech on U.S. interests did not repudiate human rights.
by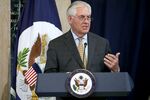 Secretary of State Rex Tillerson is getting a bad rap, including from fellow Republicans.
Senator John McCain says that Tillerson told State Department employees in a recent speech that the U.S. would no longer exert itself to promote human rights. The secretary, McCain said, had drawn a sharp distinction between American interests and American values and discounted the latter.
The senator isn't the only one who had that reaction to Tillerson's speech. News stories about it carried headlines such as "Tillerson downplays human rights in U.S. foreign relations." Op-eds painted an even darker picture: "America bids adiós to role as world leader on human rights."
This kind of coverage may have influenced McCain. But the descriptions don't really fit what Tillerson actually said. He began the relevant section of the speech by saying that "guiding all of our foreign policy actions are our fundamental values," including freedom and human dignity.
Tillerson noted, however, that "in some circumstances," attempting to promote human rights could make it harder to pursue our economic and national-security interests. Even in such cases, he said, we should continue to advocate for human rights. And he then qualified his qualification: In some other circumstances, he said, we can and do make demands for human rights. Applying these guidelines to particular cases, he concluded, is "a real challenge."
None of this repudiates the view that America has a conscience or embraces the view that its foreign policy should be "simply transactional," two beliefs that McCain attributes to Tillerson. None of it is even controversial, really.
Does anyone seriously argue that the promotion of human rights never conflicts with our economic and national security interests? That we should always pursue human rights at the expense of those interests? Every administration in U.S. history has acted as though Tillerson is right on all of these points, and it is hard to imagine how they could have done otherwise.
It could be argued, I suppose, that uttering even such banal remarks could, in the subtle world of diplomacy, send the wrong signal. But Tillerson's critics have not confined themselves to such a nuanced critique. And that critique would also be self-defeating, since it is those critics who have been loudest in communicating the message that the speech was an abandonment of human rights.
Tillerson is certainly open to criticism on human rights. His failure to meet with dissidents when he visited Russia is a black mark, for example. Advocates of human rights should judge the secretary of State based on his actual record, instead of inventing speeches he did not give.
To contact the author of this story:
Ramesh Ponnuru at rponnuru@bloomberg.net
To contact the editor responsible for this story:
Katy Roberts at kroberts29@bloomberg.net
Before it's here, it's on the Bloomberg Terminal.
LEARN MORE