Prophets
The Trump Trade Arrived Several Years Too Soon
Fiscal stimulus, if it comes, will take two to three years before it spurs the economy.
by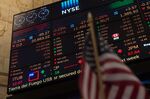 The initial reaction by investors to Donald Trump's election as U.S. President six months ago and continued Republican control of Congress was nothing short of euphoric, overdone and possibly several years too soon. They assumed that literally overnight, huge tax cuts, massive deregulation and substantial fiscal stimuli would propel rapid economic growth, a surge in corporate profits and faster inflation. So stocks leaped, with the S&P 500 Index jumping 12 percent between election day on Nov. 8 and March 1. Commodity prices also jumped along with the dollar amid expectations for quicker growth and major protectionist measures under Trump's "America First" plans.
Especially hard-hit in the weeks after the election was the Mexican peso as Trump reiterated his plan to build a wall along the southern U.S. border. Emerging-market stocks and bonds also suffered, especially those with huge dollar-denominated debts as their falling currencies would make those obligations increasingly difficult to service. Investors judged that these financial woes swamped the positive effects of developing-country currency weakness and U.S. economic growth on their exports.
Anticipated major tax cuts and fiscal stimuli implied huge new financing by way of government debt, so Treasury notes and bonds nosedived in price as their yields climbed, with the 10-year note yield rising from 1.86 percent when Trump was elected to more than 2.6 percent in mid-March. Expectations of faster inflation were also a factor. 

And to rationalize market actions not backed by hard evidence, many resorted to "animal spirits" as an explanation. This term was used by John Maynard Keynes to explain why, in the absence of basic forces, businesses invest and consumers spend. It really amounts to a quantification of ignorance -- the hope that investor enthusiasm will eventually be substantiated. In short, this "Trump Trade" -- or "reflation trade" -- was on steroids.
My reaction to all this euphoria was that investors were jumping the gun, vastly exaggerating the effects of any changes in Washington. Sure, voters in Europe and North America are mad because their purchasing power has been flat or declining for more than a decade. In response, they've rejected mainstream politicians in Western Europe and North America and turned to the fringes on the far right and the extreme left, as evidenced by the popularity of both Trump and fringe Democrat Bernie Sanders.
Starting back in March 2015, I forecast that robust U.S. fiscal stimuli, regardless of who next occupied the White House and the halls of Congress, were in the cards. Very aggressive monetary policy had proved to be impotent, and voters were demanding economic growth and higher incomes. Politicians of all stripes saw the writing on the wall and both Trump and Hillary Clinton put forth plans for major action during the election campaign.
Investors have re-examined their Trump Trade convictions, given the lack of any meaningful movement on Trump's proposals. His plan to replace Obamacare "on Day One" stalled in the face of opposition from both Democrats and moderate Republicans. Treasury Secretary Steven Mnuchin's hopes for enactment of significant tax reform by August seemed hopelessly overambitious from the start and the administration's hastily-crafted tax cut package was vague enough to fit on a single sheet of paper. 
Trump's plan to limit immigration from Muslim countries is tied up in the courts and his vaunted Mexican wall plan failed to gain support in the just-passed budget to fund the government through September. He has issued executive orders to study excessive government regulations and to roll back Obama's restrictions on energy production and signed a bill repealing Internet privacy rules enacted last year, but has made few meaningful proposals. He has also backtracked on his promise to brand China as a currency manipulator and withdraw the U.S. from NAFTA.
Many are now realizing that little was accomplished in Trump's first 100 days as President. So many investors are now swinging to my earlier conviction that much of the Trump Trade was a tempest in a teapot, at least in terms of instant actions. His approval ratings, which started out low, have dropped. Stocks' upward trajectory has leveled, with the S&P 500 and the Dow Jones Industrial Average essentially flat since the start of March. 

Commodities have fallen over the last two months, especially crude oil prices as OPEC struggles to cut production enough to offset supply increases from American frackers and curb excess inventories. The Mexican peso has rallied as Trump's threats prove hollow, at least for now, and the dollar's leap has been reversed. Emerging-market stocks and bonds recovered and have jumped well above their pre-Trump election levels. Meanwhile, Treasury note and bond prices have risen as their yields fall.

I remain convinced that massive fiscal stimuli are in the cards. It's needed to restore rapid economic growth, spur income rises and assuage voters, but it will take two to three years to be effective. Trump ran as an outsider, opposing not only Democrats but also many Republicans. He has yet to build solid backing in Congress.
Almost all politicians back badly-needed infrastructure improvements, but federal money for roads and bridges is actually spent by the states. So even after approval by Congress, the job-creating outlays are several years away. Two years after the "shovel-ready" projects in the big 2009 stimulus bill, only 30 percent of that money had been spent.
With substantial fiscal action, I look for 3.0 percent to 3.5 percent real GDP growth and the restoration of meaningful personal income gains, but not for several years. It may not come soon enough to satisfy mad-as-hell voters in the 2018 elections. Trump will need to do a selling job on expectations that rivals Franklin Delano Roosevelt's hype on the New Deal right after his 1933 inauguration.
To contact the author of this story:
Gary Shilling at agshilling@bloomberg.net
To contact the editor responsible for this story:
Robert Burgess at bburgess@bloomberg.net
Before it's here, it's on the Bloomberg Terminal.
LEARN MORE