Congress
The Buck Stops With Mitch McConnell
Trump's agenda is riding on the Senate's ability to get a lot done quickly.
by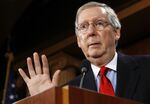 Why is President Trump's -- and the Republican Party's -- legislative agenda in so much trouble? Health care, taxes, infrastructure, and more are all pushing back later and later, with more and more of a chance that they'll run into 2018 election campaigns and be pushed until after that election by skittish legislators, which would mean most of the agenda dies if Democrats win big next November. 
One problem, which Bloomberg's Sahil Kapur helpfully details, is that the clock is ticking and Senate floor capacity is very limited, especially given the normal August vacation. Moving legislation through the Senate normally just takes a lot of time, and Republicans are already running out for 2017:
There are 39 legislative days on the House calendar before the five-week August recess. Once Congress returns after that, lawmakers will have to agree by Sept. 30 on how to fund the government for the next fiscal year and raise the debt limit this fall -- two jobs that could eat up political capital for Republican leaders who have to make difficult choices.
That said: Time isn't the biggest problem the Senate, and the Republicans have. 
The more critical issue is that we're already in May and there is a health care bill that hardly anyone likes, virtually no expert thinks will actually work, and that some Republican senators have already said means that they'll basically have to start from scratch. On taxes, it's May and the White House has produced a one-page outline. On infrastructure, it's May and there's not even a one-page outline. 
Having just finished with 2017 appropriations last week, Congress is already behind on the task of getting the 2018 spending bills done by September 30, since they've done practically nothing on that so far. They also need to raise the debt limit at some point, which will be difficult because so many Republicans have demonized what is really just a housekeeping vote. 1
The real problem is that the Trump administration and the Republican-led House of Representatives appear to be somewhere between barely capable of and utterly inept at legislating.
That leaves the Senate, which hasn't yet proved itself one way or another, but so far at least is at least making the right sort of noises for a legislative body. For example, Majority Leader Mitch McConnell has named 13 senators to a working group on health care. Whatever one thinks of his recruits and of McConnell's decision to exclude Democrats from any input, at the very least it's a group which appears to represent the various factions of the Senate Republican conference, including the relevant committee chairs. 2
It's still quite plausible that Republicans in both chambers will wind up blame-shifting health care and more right to the president's desk for his signature. Of course, any action in the Senate requires at the very least a simple majority in favor of something, and there are only 52 Republicans there (plus Vice President Mike Pence to break ties). Even that only works for "reconciliation" bills, which are how they plan to pass health care and tax bills, leaving infrastructure out in the cold unless they can make it appealing to at least eight Democrats. And, once again, neither the White House nor House Republicans appear to have any interest at all in bipartisan legislating. 
In other words, the calendar is against Senate Republicans, to be sure, but the biggest problem is that they're just not getting any help from any other part of the government. 
Indeed, there's no need to have a debt limit and votes to raise it at all; that it exists as a tough vote is almost entirely the creation of Republicans who, now, don't want to take that vote. 

That's not exactly letting the committees do their work (although they could still hold regular mark-ups once a draft is written). But it's better than the much-ridiculed House method of writing a bill in secret, only to find that no House faction was particularly happy with it and many opposed it so strongly it had to be rewritten. 
To contact the author of this story:
Jonathan Bernstein at jbernstein62@bloomberg.net
To contact the editor responsible for this story:
Mike Nizza at mnizza3@bloomberg.net
Before it's here, it's on the Bloomberg Terminal.
LEARN MORE