Editorial Board
Same Conflicts, New Interests
The White House shouldn't be a marketing tool.
by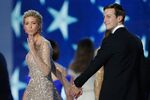 In Donald Trump's White House, the conflicts of interest are vivid, varied and globally expansive, and each day seems to bring more.
Nicole Kushner Meyer, the sister of Trump's son-in-law and adviser, Jared Kushner, has spent the past few days pitching her family's latest real-estate venture, a luxury complex in New Jersey, to potential Chinese investors -- and offering them a shot at a U.S. visa in return. Although the White House wasn't involved, promotional material made quite clear whose sister was making the offer. One slide showed a photo of Trump, identifying him as a "key decision maker" on the visa program in question. Nothing was offered explicitly, but audience members surely got the hint.
It's common enough for U.S. developers to lure Chinese cash with such marketing. The so-called EB-5 visa program, which offers a fast-track immigration process to foreigners who invest large sums in U.S. projects that create jobs, has proved quite popular among China's well-to-do. But alarm bells should be ringing on this particular offer.
For one thing, the company is being opaque. Reporters trying to cover the events have been harassed, tossed out or blocked from attending. Such behavior on behalf of a U.S. corporation would be worrisome in its own right -- all the more so when the company is emphasizing its ties to the White House.
The visa program, meanwhile, is highly dubious as public policy. It was meant to attract investment to downtrodden areas. In practice, it has allowed wealthy foreigners to buy immigration rights while financing luxury skyscrapers. It's rife with fraud and abuse. If Trump wants to overhaul the U.S. visa system, as he says, the EB-5 program would be a reasonable place to start.
The biggest problem with Meyer's road show, however, is one of appearances. Jared Kushner has become a crucial broker between China's government and the White House, even as his family company continues to solicit Chinese investment on a grand scale. In March, Bloomberg reported that a Chinese insurance company was considering an investment in a separate Kushner project -- the troubled 666 Fifth Avenue  -- on terms that would've been quite favorable to the family's interests. The public can hardly give this White House the benefit of the doubt when it asserts that there's no quid pro quo in such deals.
In fairness, Kushner has gone further than others in the administration -- notably, the president himself -- in trying to sever some of his business ties while in the White House. And he has divested his interest in the project Meyer is now promoting. Yet he still stands to benefit hugely from the family empire. He'll never be seen as an honest broker if his former company is touting his connection to the president to drum up business.
Like everyone else, the Kushners have a right to make a living. They don't have a right to use the White House as a marketing tool.
--Editors: Timothy Lavin, Michael Newman.
To contact the senior editor responsible for Bloomberg View's editorials: David Shipley at davidshipley@bloomberg.net .
Before it's here, it's on the Bloomberg Terminal.
LEARN MORE