Jobs
Men Slowly Return to the Labor Force
The beginning of a turnaround or just a minor interruption in a long-term trend?
by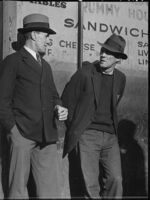 One of the biggest economic stories of the past few years has been the departure of men in their prime working years (ages 25 through 54) from the U.S. labor force. This has actually been happening since the 1950s, but only recently have lots of people have been calling attention to it. The attention seems to have reached a crescendo, in fact, just as prime-age men began to re-enter to the work force.
The comeback, which began in 2014, is so far pretty tentative. The percentage of prime-age civilian men who either have a job or are actively looking for one (that's the labor force participation rate), actually went down a tick from 88.7 percent March to 88.6 percent in April, according to today's employment report from the Bureau of Labor Statistics. Its post-recession peak was 88.9 percent, reached in January and in March 2016. But these numbers, derived from a monthly survey of 60,000 households conducted by the Census Bureau, tend to jump around a bit from month to month, which is why I used three-month rolling averages in the above chart. Here's the long view, also using three-month averages.
Similar trends have been apparent across the developed world over the long run. But since about the year 2000, the U.S. has been an outlier, with male and female labor force participation rates falling here even as they held steady or even rose in other affluent nations.

In a presentation earlier this week, former White House Council of Economic Advisers chairman Jason Furman, now of the Peterson Institute of International Economics, offered four main explanations for the long decline in male labor-force participation in the U.S.:
Weak demand, especially for lower-skilled male labor.
The aftereffects of mass incarceration, which initially pulls men out of the labor-force calculations entirely (prison inmates are not counted as part of the civilian population), but then releases them with criminal records and low odds of getting a job.
Less supportive labor markets, with the U.S. investing far less than other affluent countries in training and job placement efforts and child care, and offering less paid leave and sick leave.
Less fluid labor markets, with job switching, job creation and job destruction all on the decline.
Incarceration rates have dropped a bit in recent years, so maybe that's been having a positive effect lately. Higher labor demand and some increase in labor market fluidity (median job tenure fell from 2014 to 2016 after rising steadily since 2000) would seem to be factors. Nothing much has changed in terms of the supportiveness of labor markets, though. And at this point it's impossible to tell if the return of prime-age males to the labor force since 2014 is just a minor interruption to the downtrend or the beginning of something bigger.
To contact the author of this story:
Justin Fox at justinfox@bloomberg.net
To contact the editor responsible for this story:
James Greiff at jgreiff@bloomberg.net
Before it's here, it's on the Bloomberg Terminal.
LEARN MORE