Europe
The State Department's Needless Warning on Europe
The world is dangerous enough. We shouldn't make it scarier for each other.
by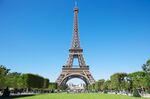 Now, Americans wondering if it's safe to travel to Europe have an official answer from President Donald Trump's State Department: not particularly. It's not a full-blown travel warning, like the ones for Syria, Eritrea or, since March 28, for far safer Turkey, still an important tourist destination. But it's a word to wise tourists, one the agency has issued four times in the last year:
Recent, widely-reported incidents in France, Russia, Sweden, and the United Kingdom demonstrate that the Islamic State of Iraq and ash-Sham (ISIS or Da'esh), Al-Qaeda, and their affiliates have the ability to plan and execute terrorist attacks in Europe.
State may be trying to protect Americans, but the statistics don't show Europe as any more dangerous. In 2016, a year that saw some of the worst ISIS terror attacks in Europe, seven U.S. citizens were killed in these attacks. 1 In the U.S., a single ISIS-inspired acts of terror in Orlando killed 49 people, and dozens of others sustained injuries in St. Cloud, Minnesota, New York City and Columbus, Ohio. 
But the numbers won't stop the State Department from helping to convince Americans to reconsider their travel plans, especially those inclined to agree with Trump and a steady drumbeat of coverage from conservative outlets about the dangers of Islam. Breitbart, for example, slapped this travel warning at the top of its front page on Tuesday with an urgent, all-caps headline. 
Not long ago, Breitbart gleefully reported that Germany slipped to 51st place in the "safety and security" ranking of the 2017 Travel and Tourism Competitiveness Report, put out by the Global Economic Forum. That happened because of a heightened perception of terror risk, probably because of the December truck attack on a Berlin Christmas market. The story didn't mention that the U.S. was 84th on that list, scoring worse than Germany on terrorism incidence and homicide rate. 
In fact, the U.S. compares unfavorably with many European countries on this particular ranking's scale. In addition to lower crime and terror incidence, some of them have more efficient police services.
Despite the greater danger of bad things happening in the U.S. than in major European nations, you won't find a travel warning or alert about the U.S. on the sites of the German or French foreign ministries. Sensibly, they limit themselves to warning citizens about wars, environmental disasters, uprisings and major strikes. The U.K. Foreign Office, however, advises caution in the U.S. -- against terror, street crime and the Trump administration's various travel restrictions. 
When Americans ask me about Muslim ghettos and no-go zones in European cities, I'm often at a loss about what to say. I've traveled extensively throughout Europe and the U.S. for the last 20 years and felt safer everywhere than I do in a Russian tower block neighborhood after dark. But even given my low standard, there is no neighborhood in the EU where I'd worry for my wife and daughters' safety.
Wedding and Gesundbrunnen, the immigrant-populated areas of Berlin within walking distance from our home, are colorful, friendly places where you're about as likely to be assaulted or mowed down by a terrorist as on Washington's National Mall. Paris's infamous banlieues and Brussels' terrorism cradle, Molenbeek, are safe for strangers who are not out to make trouble themselves. I recommend all these places to American tourists who want to wander off the beaten track and "live dangerously" with negligible risk to life and limb. After coming to terms with the variety of skin hues represented, a loyal Breitbart reader might wonder if these areas can't in fact be models for some of the more run-down U.S. neighborhoods. Europeans aren't big on gated communities and secure buildings, so safety tends to spread around.
The world is dangerous enough. We shouldn't make it scarier for each other by putting out pointless warnings. The Canadian government is right when it tells citizens simply to "exercise normal security precautions" when they go to the U.S. or to Western Europe. We are a pampered minority that lives in relatively safe places, and we should value it more.
In fact, Americans appear to understand that and ignore State's alarmism. In 2016, though most of the year was covered by travel alerts, the number of U.S. citizens who traveled to Europe increased by 6.9 percent from the year before, reaching almost 12.6 million. Despite the distance, that's far more than to any other region of the world. 
To contact the author of this story:
Leonid Bershidsky at lbershidsky@bloomberg.net
To contact the editor responsible for this story:
Mike Nizza at mnizza3@bloomberg.net
Before it's here, it's on the Bloomberg Terminal.
LEARN MORE