Europe
In France's Centrist Vs. Populist Debate, Deja Vu for Americans
Macron is Clintonesque, but may avoid the fate that befell Democrats last fall.
by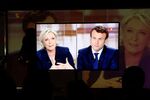 Watching last night's presidential debate here in France, I found it hard not to think about our own presidential debates in the U.S., lo these many months ago. In many ways, it was the same: the populist upstart against the center-left representative of the establishment, the status quo against the YOLO, the woman against the man. In other ways, it was very different -- which is why, according to almost everyone, Emmanuel Macron is going to be elected president next week, and Marine Le Pen will not.
Macron, like Hillary Clinton, is the candidate of "more of the same, but with, you know, more of the same." His contempt for Le Pen was obvious, and if this were an American debate, would have hurt him. My French is good enough to read a newspaper (very slowly) and to sort of follow the debate as long as no one else was talking. So as I watched, I paid attention to tone and body language as much as content.
What I saw called to mind Chris Arnade's distinction between "front row kids" and "back row kids." Next to Le Pen, Macron literally looked like a kid -- earnest, arrogant, smirking at the stupidity of his elders. Le Pen came off as the earthy aunt who wasn't taking his nonsense. In content, Macron was the clear winner, with a much better grasp of policy detail. But in America, as we just discovered, "commanding grasp of policy detail" was not a winning formula against "tells the front-row kid to put his #%@! hand down and stop showing off."
This Le Pen did, repeatedly. She went on the attack and stayed there. She needled him about his wife (who was his high school drama coach, which would have been a fatal liability in an American candidate). She pummeled him about his connections to the current administration, which is so popular that the ruling party's candidate drew single-digit support in the first round. She accused him of being soft on terrorism and selling out France to big business.
Macron in turn said that Le Pen's proposals would drive the country toward civil war -- basically, "if you do this, the terrorists will have won." American election-watchers could be forgiven for a certain sense of déjà vu.
Le Pen, like Trump, is basically the candidate of "things were better 40 years ago, so let's go back there." And it's easy to understand why that's appealing for a lot of voters in both France and America. The problem is, even if it were desirable to migrate en masse back to the mid-20th century, no one knows how to do it. France may be struggling to integrate its immigrants, but they are here, and cannot simply be removed the way one might get rid of a piece of furniture that clashes with the rest of the décor. Trade may have resulted in painful deindustrialization, but de-industrialization is a one-way street, and pulling out of those trade relationships will not bring back the lost factories. The euro may have been a very bad idea -- no, strike that, the euro was a very bad idea, probably the worst one France has had since "let's get into a land war in Southeast Asia" -- but leaving the euro is not the same as having never adopted it. In the short term, at least, it would be catastrophically messy.
To this, Le Pen's supporters might reply "but at least we could stop making things worse." But even if you hold out more hope for her agenda than I do, the fact remains that if you reject the status quo in favor of radical change, you necessarily raise the risk that things will get much worse. We know approximately what the status quo looks like. Radical action means launching off into the dark. Which is why radical candidates inevitably seem less prepared, knowledgeable and plausible than their mainstream opponents.
That said, compared to Donald Trump, Marine Le Pen sounds like a wonk's wonk. Nor does she have his propensity to lose his cool. Watching the French debate, I was struck by a repeated thought: if Clinton had had Le Pen's speaking ability, she would be president now. During the campaign, and after, Clinton's supporters frequently complained that Clinton was being penalized for being an older woman. But Le Pen is living proof that middle-aged ladies can be effective politicians. I don't like her agenda, and I really don't like her party. But looking strictly at effectiveness on the stump, she's pretty good.
So why, then, is Le Pen trailing so badly in the polls?
For one thing, because she has a better opponent than Trump did. I found Macron's performance lackluster in the first half of the debate, but then, I am not a French voter, so my reactions are not very relevant. And around about the time that they got to talking about Europe, Macron seemed to settle down. He stopped smirking and started looking commanding, passionate, knowledgeable. Le Pen, by contrast, seemed to lose her cool a bit. And the less he smirked, the more effective he was when he pointed out that Le Pen's program was light on convincing detail. The snap poll right after the debate showed that a clear majority felt Macron had won.
Of course, Clinton also had such snap polls and … hello, President Trump. What's the difference?
It seems unlikely that Macron will be hit by anything like the Comey letter between now and Sunday. So that helps. But so, too, does the fact that he is not running in the American system.
First-past-the-post, winner-take-all systems like ours tend to produce two major political parties that trade off power between them. Disruptive candidates therefore have to gain control of one of those two parties. But France doesn't have that system; it has lots of parties in the first round, and then the two with the greatest vote totals advance to a runoff. This means that, as in America, a candidate with a minority of the overall vote can end up in the general election. But unlike in America, they do not necessarily arrive there with a major party's support behind them.
When Trump won the GOP primary, the Republican establishment was aghast, but still had to reckon with him. Out of party loyalty -- and fear of what his voters might do to them in the next primary -- Republican politicians offered some political support, however tepid, anguished and tenuous, for his candidacy. Republican voters, hoping for at least some of the traditional goodies they got out of the presidency (like, say, conservative Supreme Court justices), proved willing to hold their noses and vote for him. In France, by contrast, François Fillon, the center-right candidate immediately endorsed Macron over Le Pen.
Some of his voters will undoubtedly cast their ballot for Le Pen anyway. And voters on both right and left may cast a "vote blanc" -- essentially, none of the above. Or just stay home. As we rode the metro to watch the debate, my friend was seated next to a supporter of Jean-Luc Mélenchon, the far-left candidate who commanded almost 20 percent in the first round. She was on her cell phone, and according to my friend, was trying to persuade the person on the other end that they had to come out to vote for Macron in the second round. Nonetheless, Macron's margins look safer than either Trump or Brexit's "Remain" campaign did at this stage of the proceedings. The consensus seems to be that in France at least, for now at least, the center will hold.
To contact the author of this story:
Megan McArdle at mmcardle3@bloomberg.net
To contact the editor responsible for this story:
Philip Gray at philipgray@bloomberg.net
Before it's here, it's on the Bloomberg Terminal.
LEARN MORE