view
Alitalia Should Fly on Its Own or Be Grounded
Italy's government rescue of the airline comes at great cost to the country's economy.
by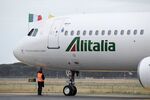 Given its rich history, Italy is rightly attached to its relics. Unfortunately, this affection for the past does not stop at the Colosseum: It applies to failing companies too.
Take Alitalia, Italy's loss-making flag carrier, which has survived for years thanks to a string of public and private rescues. On Tuesday, the airline went into administration, prompting the government to provide a fresh loan worth 600 million euros ($655 million) to guarantee another six months of operation. Surely the time has come for Italy to stop losses. Unless Alitalia can find a buyer, the government should allow it to go bust.
Politically, that is a tall order, of course. Politicians want to protect workers, who stand to lose their jobs if a company shuts down. But every euro used in a bailout is one that can't be spent elsewhere; what economists call "opportunity cost." How many more jobs could have been created had the government invested 600 million euros into upgrading Italy's digital infrastructure?
Keeping Alitalia alive is also a burden on productivity, since it takes resources that might be deployed by more efficient competitors. Last year, a study for the European Commission found that the misallocation of workers and capital in Italy has steadily worsened since 1995, accounting for a large fraction of Italy's productivity slowdown. If the government is serious about Italy returning to sustainable growth, it should stop helping losers get in the way of productive companies.
There are also questions of financial stability. Between 1974 and 2014, Italian taxpayers have spent 7.4 billion euros propping up Alitalia, according to Mediobanca. Italy's addiction to helping companies in trouble has contributed to its huge government debt, which now stands at nearly 133 per cent of gross domestic product, exposing Rome to the risk of a financial crisis.
The same problem also applies to banks. From UniCredit SpA to Intesa Sanpaolo, many of Italy's big lenders have granted hundreds of millions in credit lines to Alitalia, only to see their loans go up in smoke. The list also includes Monte Dei Paschi di Siena, the troubled bank which in December had to apply for a multi-billion euro government bailout. The reason? It was struggling under the weight of non-performing loans, like those it provided to Alitalia.
While European rules on state aid will make it difficult for Rome to help Alitalia beyond the initial six months, one should never underestimate the ability of the Italian government to find a way to stitch together another flawed rescue. But if Italy is to finally start focusing on future growth, it will have to stop dwelling on the ruins of the past.
To contact the author of this story:
Ferdinando Giugliano at fgiugliano@bloomberg.net
To contact the editor responsible for this story:
Therese Raphael at traphael4@bloomberg.net
Before it's here, it's on the Bloomberg Terminal.
LEARN MORE