Middle East
The Best Bet for Syria: Freeze the Conflict
Putin and Trump seem to be heading toward de facto partition.
by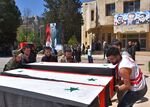 Something appears to be shifting in the interaction between major powers in the Syrian conflict. Tuesday's phone call between U.S. President Donald Trump and his Russian counterpart, Vladimir Putin, as well as Putin's remarks after a meeting with German Chancellor Angela Merkel, show that a partition of Syria into spheres of influence may be in the cards.
The Russian and U.S. readouts of the call differ. The Kremlin version talks about "boosting dialog between the two countries' foreign policy agencies to find ways to strengthen the ceasefire regime, making it stable and controlled." The U.S. description appears to be more specific: 
The conversation was a very good one, and included the discussion of safe, or de-escalation, zones to achieve lasting peace for humanitarian and many other reasons. The United States will be sending a representative to the cease-fire talks in Astana, Kazakhstan on May 3-4. 
Putin provided a glimpse of his vision at Tuesday's press conference with Merkel. "The Syrian people have the greatest influence on President Assad," Putin said. "They are, quite obviously, split." He added that "without the participation of a party such as the United States, it is impossible to solve these problems effectively."
Put this together and a changing picture is emerging.
Putin is acknowledging that there's no way to achieve peace in Syria without the U.S., though late last year he and Turkish President Recep Tayyip Erdogan attempted to do just that by brokering a ceasefire between Assad's forces and rebel groups and trying to mediate talks between them in Astana, the capital of Kazakhstan. The talks haven't been effective because the U.S.-backed Syrian opposition has been encouraged by increased U.S. commitment, reflected in airstrikes and a growing American military presence. The Astana process, which restarted on Wednesday, needs U.S. participation to be relevant, which is why Putin apparently raised the issue with Trump. Formerly, Ambassador to Kazakhstan George Krol served as the U.S. observer at the talks; this time around it's Stuart Jones, acting assistant secretary of state for the Middle East. The mention in the White House readout also raises the status of the U.S. participation.
Putin also appears to acknowledge that the divide between his ally Assad and the rebels who oppose them is impossible to bridge. That's a curious semi-departure from Russia's official insistence that Syria should remain a united country. 
United Nations' Syria envoy Staffan de Mistura has suggested the federalization of Syria as a path toward peace, but last year, both the Assad regime and the opposition rejected the proposal. So neither Russia, as Assad's ally, nor the U.S. can talk openly about dividing the country. They don't have to, though. Trump's plan for "safe, or de-escalation, zones," which he discussed with Putin on Tuesday, presents an opportunity to freeze the conflict, leaving the warring sides to administer the areas they control today under, respectively, Russian and U.S. protection.
The plan can be sold to U.S. voters as a humanitarian solution and a way to curb the outflow of refugees. Russians would accept it as a graceful finishing touch to Putin's relatively inexpensive military adventure, confirming Russia's status as a major player in the Middle East.
Such a scenario would be akin to the geopolitical division of the Korean peninsula -- only an informal one. Putin has lots of experience with such arrangements. As far as the Kremlin is concerned, Ukraine today is divided into a Russian-controlled zone (the separatist "people's republics" in the east) and a U.S.-controlled one (the rest of the country). So is Georgia, with a pro-Western government in Tbilisi, on the one hand, and Abkhazia and South Ossetia, two dwarf splinter states recognized by Russia and only a handful of others. And so is Moldova, with the government in Chisinau slowly treading a path to the West and unrecognized Transnistria keeping its pro-Russian orientation.
A deal between Putin and Trump may involve freezing the conflict in a similar way by convincing the warring sides that none of them can win immediately, maybe not for a long time. Of course, that would entail the rebels abandoning for now their goal of ousting Assad; so far they have been unwilling to do that. 
The other problem with such an arrangement is that it leaves little room for Turkey, another country with a strong interest in Syria. It would provide long-term U.S. protection to the Kurdish-controlled areas of Syria, something that Erdogan would view as a source of danger. Erdogan, who is meeting with Trump on May 16, intends to offer Turkish help in beating Islamic State out of Raqqa as an alternative to U.S. cooperation with the Kurds. 
On Wednesday, Erdogan was scheduled to meet with Putin; Syria was announced as the main subject of the meeting. The two countries' interests in the conflict have lately diverged more widely than last year, and it's not clear what Putin can do for Erdogan -- he may be more interested in a deal with Trump at this point.
If a "safe zone" or frozen-conflict scheme can be worked out, Putin will have every reason to be happy with the Trump presidency. And it may even be in U.S. interest. Though maintaining the safe zones can be costly, so is a continued conflict with no solution in sight.
To contact the author of this story:
Leonid Bershidsky at lbershidsky@bloomberg.net
To contact the editor responsible for this story:
Therese Raphael at traphael4@bloomberg.net
Before it's here, it's on the Bloomberg Terminal.
LEARN MORE