Editorial Board
Theresa May's Brexit Platform
May should give a fuller account of her brand of centrist Toryism.
by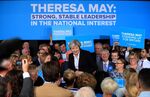 British Prime Minister Theresa May recently surprised the country -- and most of her ministers -- by calling an election for early next month. Up against self-imposed deadlines, and anxious to increase her majority in Parliament, she's scrambling to devise a policy platform.
With Brexit looming, this isn't a normal election, and the usual litany of detailed proposals won't serve. For the purposes of this manifesto and this election, less is more.
May needs to set out her basic approach to the Brexit talks, but she can't afford to get too specific, because she has a weak hand and will have to give way on many issues. What she can do, though, is set out the principles that will guide her team: Britain should seek the closest possible relationship with the European Union while recovering its powers as a sovereign nation -- in particular, the right to control its borders and make its own laws.
Controlling the borders, May should note, doesn't mean an unduly restrictive policy on immigration. EU workers already in the country should be assured they can stay regardless of the EU's position on British workers in Europe. If the U.K. intends to be a beacon of outward-looking liberalism after its divorce, it can start with that.
QuickTake Why Britain Voted to Quit the EU
May should also say that Britain can agree to a temporary transitional agreement in which most of its obligations as an EU member would remain. This could be important if exit negotiations aren't completed in two years, which seems likely.
This election, though, is not just about Europe. Again, the Tory platform should avoid making promises the government would soon regret. May's manifesto should unmake some of the unwise promises of her predecessor, David Cameron, such as the "triple lock" that guaranteed increases in the state pension -- a policy that's fiscally unsound and increasingly unfair to poor people who don't happen to be pensioners.
Without offering hostages to fortune, May should instead give a fuller account of her brand of centrist Toryism. If she's smart, she'll quash the suspicion that she favors an interventionist industrial policy. But she should underline her determination to make the economy work better for the country outside London and for people with jobs who nonetheless struggle to make ends meet.
Policies that push public investment to the regions, empower growth-oriented local governments, improve public education, and lift the tax burden from the low-paid would all serve this purpose.
British election manifestos almost always promise too much, and disappointment follows with dreary regularity. May can break this cycle by making a forthright defense of the values and priorities of the government she intends to lead. If she does, and wins, she will have earned her mandate to govern.
--Editors: Clive Crook, Michael Newman
To contact the senior editor responsible for Bloomberg View's editorials: David Shipley at davidshipley@bloomberg.net .
Before it's here, it's on the Bloomberg Terminal.
LEARN MORE