Early Returns
The 4 Smartest 100-Day Reads You Missed
Jonathan Bernstein's morning links.
by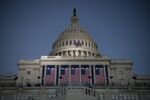 1. Dave Hopkins on Trump's first 100 days. I agree with everything here, but I'll defend the alarmists (not all of whom were liberals or leftists). Trump's attachment to democratic norms remains weak, and his willingness to go along with conflict-of-interest and other normal ethics guidelines remains practically non-existent. That's not fascism, but it's not good for democracy -- and it's certainly possible that alarmists helped prevent things from being worse. 
2. There's just too much good stuff on Trump's 100 days over at the Monkey Cage, so I'll combine three for one item. Andrew Rudalevige on the executive orders; Elizabeth Saunders on foreign policy; and David Mayhew on legislative progress. 
3. Molly Reynolds at the Monkey Cage on keeping the government open (for now). 
4. Richard Skinner at Mischiefs of Faction on the Georgia 6 special election.
5. And Kevin Kosar is correct: Congress needs more staff. 
This column does not necessarily reflect the opinion of the editorial board or Bloomberg LP and its owners.
To contact the author of this story:
Jonathan Bernstein at jbernstein62@bloomberg.net
To contact the editor responsible for this story:
Mike Nizza at mnizza3@bloomberg.net
Before it's here, it's on the Bloomberg Terminal.
LEARN MORE