Jobs
New York: Softer on Crime, Stronger on Jobs
Alabama's different approach, however, hasn't resulted in less violent crime -- or a better employment situation.
by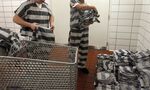 Attorney General Jeff Sessions quickly walked back his Justice Department's claim last week that New York City was "soft on crime." But not before he inspired me to start making some charts! 
As is widely known, New York City has seen a spectacular drop in violent crime over the past three decades. The pace of decline has slowed in recent years, but New York hasn't seen a rebound as Chicago and some other cities have, and it has generally become a pretty safe place. Which got me wondering: Is it now safer than Sessions' home state of Alabama?
Well, yes, it is. There were 352 homicides in New York City in 2015. In Alabama there were 353. (In 2016 the NYC total fell to 335; Alabama's statewide numbers for 2016 aren't in yet.) New York City has a lot more people than Alabama: 8.5 million to 4.9 million. Which makes for a significantly lower homicide rate: 
Both places have seen a fall in homicide rates since the early 1990s, but New York City's has been more precipitous. Then again, it had been a lot worse to start with. The sharpest declines occurred early in the tenure of aggressively-tough-on-crime Mayor Rudy Giuliani, a former federal prosecutor, although it is worth noting that the downward trajectory had set in before he took office in 1994.
In Alabama, Sessions' brief tenure as state attorney general (he was elected in November 1994, then elected to the U.S. Senate in November 1996) coincided with a falling homicide rate, but his long tenure (1981-1993) as U.S. Attorney for the Southern District of Alabama did not. (I guess I should also disclose that I left Alabama in late 1994 after a five-year stay and moved to New York in 1996, although I don't think either move had a big impact on homicide rates.) 
There are a lot of possible reasons crime rates fell in the U.S. after 1990. Tougher policing, prosecuting and sentencing are among them, but I doubt they deserve all the credit. 1  They do deserve almost all the credit, though, for the incarceration boom that continued even as crime subsided. I base this last assertion on the research of John Pfaff, a professor at Fordham University School of Law and author of the recent book "Locked In: The True Causes of Mass Incarceration -- and How to Achieve Real Reform." In Pfaff's telling, the incarceration boom began because of the sharp rise in crime from the 1960s through the 1980s, then continued because prosecutors became more aggressive and were granted more resources. Here's a fun fact from a Pfaff lecture that I attended last year:
From 1974 to 1990, as crime rose, the number of assistant district attorneys in the U.S. rose with it, from 17,000 to 20,000. From 1990 to 2007, as crime fell, the number of assistant DAs kept rising to 25,000, and the overall number of local prosecutors rose to 30,000.
In recent years, some states and counties have reversed course and begun to roll back the prosecutorial tide. Others, not so much. Consider the contrast between Alabama and New York (and here there's only state data readily available, but other evidence indicates that the decline in New York state has been driven almost entirely by New York City):
So yes, as far as punishment goes, Alabama has been tougher on crime than New York has been. There's certainly no evidence from the homicide rates, though, that this toughness has been any more effective in reducing violent crime. Meanwhile, there are potential costs to incarceration that deserve more attention.

Back in 1999, with the U.S. labor market looking much healthier than that of other developed countries, sociologists Bruce Western and Katherine Beckett argued that this strong performance "depended in part on a high and increasing incarceration rate." That is, prisoners aren't counted as part of the labor force or even the working-age population for calculating unemployment or labor-force participation rates, so putting more people behind bars made those rates look better.
Western and Beckett hypothesized, though, that as people left prison and struggled to find jobs, they would begin depressing these employment indicators. Sure enough, the labor-force participation rate -- the percentage of non-institutionalized adult civilians who either have a job or are actively looking for one -- began a long decline after 2000 that 1) was worse than in other wealthy countries and 2) has been one of the most disturbing trends in the modern U.S. economy. It's been the reason President Donald Trump, Sessions' boss, has been able to argue with justification that the official unemployment rate hides a bigger joblessness problem.

How did high-incarceration-rate Alabama compare on this front with lower-and-falling-incarceration-rate New York City? Not well at all, actually:
This chart doesn't prove anything about incarceration and labor markets, of course, and I can certainly think of some other reasons New York City's labor market outperformed Alabama's over the past two decades. Alabama has one of the most manufacturing-intensive state economies, and the years since 2000 have been terrible for manufacturing employment. New York City, meanwhile, is a global center for a bunch of high-value, high-innovation industries that have for the most part been adding jobs. Also, New York City has a much-higher foreign-born population than Alabama (37.2 percent to 3.5 percent), and foreign-born people in the U.S. have a markedly higher labor-force participation rate (65.7 percent to 62.3 percent in March) than the natives do.

But that last statistic is relevant, too, given that the Justice Department's initial beef with New York was with what Sessions feels is the city's overly accommodating stance toward undocumented immigrants. (Alabama, meanwhile, has the nation's strictest laws targeting illegal immigration.) As my Bloomberg View colleagues wrote in an editorial Tuesday, there may be perfectly good reasons to want to crack down on illegal immigration, but reducing overall crime isn't really one of them. Immigrants in general are much less likely to commit crimes than the native-born; the evidence on undocumented immigrants is less conclusive but mostly points in the same direction (unless, of course, one counts the offense of not having the proper papers to stay in the U.S.).
Overall, then, New York City's approaches to preventing and punishing crime and to dealing with illegal immigration have been met with lower crime rates and better economic results than Alabama's approaches. Which could just be a coincidence! But it nonetheless seems worth noting now that we have an attorney general who appears to want to impose the Alabama model on the rest of the country.
You may have heard of John J. Donohue III and Steven Levitt's controversial argument that the legalization of abortion in 1973 brought down crime rates 18 years later. I'm a big fan of Kevin Drum's theory that the removal of lead from gasoline in the 1970s was the main driver.  
To contact the author of this story:
Justin Fox at justinfox@bloomberg.net
To contact the editor responsible for this story:
Brooke Sample at bsample1@bloomberg.net
Before it's here, it's on the Bloomberg Terminal.
LEARN MORE