view
Watch Consumers for Clues to the Fed's Plans
Officials could reconsider rate hikes if spending remains weak.
by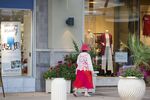 Consumers appear to be stumbling in early 2017. Retail sales registered on the weak side in the last two months and, according to the Atlanta Federal Reserve, real consumer spending is tracking at a dismal 0.3 percent growth rate for the first quarter.
Will that derail the Fed's plans for two rate hikes and balance-sheet reduction this year? Perhaps, but I don't think consumers are done spending just yet. Most likely, they will sustain enough momentum to help carry the economy through this year. And if that happens, I expect the Fed will continue to push for additional rate increases as it looks for opportunities to tighten policy.
The New York Federal Reserve Survey of Consumer Expectations contains a measure of expected housing-spending growth for this year. We can push this measure forward a year and compare it to actual spending over the previous year. How accurate were household spending expectations? Fairly accurate -- households anticipated the general spending trends a year in advance.

The survey begins in the middle of 2013. At the time, households expected solid spending growth over the next year. By the beginning of 2015, however, consumers began anticipating a spending slowdown that would stabilize by the second half of 2016. How good were these predictions? Turns out that the survey participants anticipated the general pattern of spending growth a year before:


Consumer spending accelerated in 2014, as survey participants expected a year earlier. Participants also anticipated the subsequent slowing and stabilizing of spending that followed. Of course, core retail sales are only a portion of overall consumer spending. But notice that these trends also track real consumer spending over the past few years:

So what does this tell us? Assuming the survey continues to anticipate actual spending growth, two details jump out: First, the households in this survey did not foresee a "Trump bump" at the end of 2016. In other words, they did not anticipate a surge in spending over the course of the next year. This suggests we shouldn't place much weight on the post-election jump in other consumer confidence reports. Consumers might say they are more optimistic, but they aren't planning to spend more to match.
On the other hand, consumers expect spending growth to hold pretty stable through 2017 and into 2018. That would suggest real consumer spending growth around 2.5 percent to 3 percent this year, sufficient to keep the Fed's output forecasts on track.
This explains why the central bank is looking through weak data such as soft retail sales reports (down two months in a row) to the underlying trends in the economy. For example, see what Fed Vice Chairman Stanley Fischer said in an interview on CNBC last week: "There are reasons to think that the first quarter was, again, below what the rest of the year will be."
I expect Fed policy makers will continue this line of reasoning even after the release this week of the first quarter gross domestic product numbers. If they are weaker than expected, the Fed will reiterate that the weakness reflects transitory factors and does not change policy expectations for the year. If the numbers are stronger than anticipated, policy makers will find justification for their generally dismissive attitude toward the data. In other words, they can't lose.
What would change the Fed's basic position? If we see the weakness of the first quarter extend into the second. That would increase the odds that the bank will take a pass at the June meeting. But before they decide to pass, officials need to see convincing evidence that their forecasts are likely to fall short. I sense they are fairly secure in their baseline expectation of two more hikes and balance sheet reduction this year. At the moment, they appear to be looking for reasons to meet that forecast, not reasons to stand still.
Nonetheless, keep an eye on 10-year Treasury yields, which have reversed much of the rise experienced after the recession. This may be sending clues about the likely end point for monetary policy. The Fed may be able to get away with the tightening it anticipates this year, but if longer term yields stay low, its 2018 plans will be at risk.
To contact the author of this story:
Tim Duy at duy@uoregon.edu
To contact the editor responsible for this story:
Max Berley at mberley@bloomberg.net
Before it's here, it's on the Bloomberg Terminal.
LEARN MORE