Editorial Board
The Trump Effect Down Under
Some of the U.S. president's misguided ideas about immigration are becoming policy in Australia.
by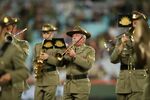 In Sydney last weekend, Vice President Mike Pence hailed the close economic ties linking the U.S. and Australia. In fact, currently America's chief export to the Antipodes seems to be bad ideas.
Last week, on the same day President Donald Trump took aim at the H-1B visa program in the U.S., Prime Minister Malcolm Turnbull abolished Australia's own skilled-worker visa program, which he criticized for disadvantaging Australian workers. A replacement system will impose new limits on who can work in Australia and for how long, and will narrow the pathway to permanent residency. Turnbull later raised Australia's citizenship requirements, too, imposing tough English-language standards and proposing a test to judge whether applicants share "Australian values."
The new measures are misguided in at least three ways. First, they address a nonexistent problem. Outside of a noisy minority, Australians -- nearly 30 percent of whom are foreign-born -- are unusually open to legal immigration. Australia faces neither the same illegal immigration challenges as the U.S., nor Europe's problems with integrating migrant communities. The government estimates that 90 percent of overseas-born Australians have good English skills. As for the just-scrapped visa program -- whose numbers had been declining and which covered less than 1 percent of the labor force -- there's no real evidence it had any negative impact on wages and employment of Australian workers.
Second, the changes don't solve the problems that do exist. In some cases, unscrupulous employers have exploited visa holders, paying them less than legally required and forcing them to work under unhealthy conditions. Regulations already forbid such abuses; the issue is enforcement, which the new rules don't address. While the government has eliminated some job categories where foreign labor obviously wasn't required (say, goat farmers), hundreds of others, from chefs to marketing specialists, remain on the list.
Most important, Australia is wasting a huge opportunity. The country can't dig treasure out of the ground forever; it needs to shrink its dependence on commodity exports and foster more innovative, knowledge-based industries. Skilled migrants, who have been shown globally to raise labor productivity, income levels and GDP, could dramatically aid in that process.
Rising xenophobia in the U.S. and U.K. -- two of Australia's main competitors for highly skilled migrants -- is likely to drive away thousands of foreign students, academics and entrepreneurs. One might have expected many of them to consider moving Down Under. Instead, under the new rules, anyone on a temporary visa (be they CEOs or college lecturers) will be unable to stay on for more than four years. And that's assuming they even want to work in a country that appears less and less welcoming to outsiders.
A better strategy would address the few visa abuses directly. Forcing companies to pay far more to sponsor immigrants would dissuade them from seeking to import cheap labor. Investing that money in hiring more labor inspectors would lead to better enforcement of the rules. And restoring faith in the system might give Turnbull and other politicians the courage to affirm what most of their constituents already believe: Immigrants have enriched Australian society. They deserve to be welcomed.
--Editors: Nisid Hajari, Michael Newman.
To contact the senior editor responsible for Bloomberg View's editorials: David Shipley at davidshipley@bloomberg.net.
Before it's here, it's on the Bloomberg Terminal.
LEARN MORE