Middle East
Don't Tell These Israelis That Peace Is Impossible
Trump's flexibility on a two-state solution has inspired some creative thinking.
by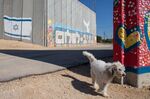 When U.S. President Donald Trump said, during a news conference in February with Israeli Prime Minister Benjamin Netanyahu, "I'm looking at two states and one state … I can live with either one," it seemed that he was abandoning decades of both Democratic and Republican commitment to a two-state solution. Did he really mean to throw America's weight behind an entirely different vision of the Middle East?
It is of course quite possible that the president's willingness to live with either scenario stemmed from his understanding of neither. After all, Trump never explained whether by "one state" he meant a Jewish state in which Palestinians would live as either partial or full citizens, or a non-ethnic state that would privilege neither Jews nor Arabs. He seems to be figuring things out as he goes.
The president has sent mixed signals with the people he has sent to pursue a long-elusive peace deal. "I've been hearing that's the toughest deal to make," he said, "but I have a feeling Jared is going to do a great job." The person actually doing the diplomacy, however, is not Trump's son-in-law Jared Kushner but former Trump Organization lawyer Jason Greenblatt. Although Greenblatt once said that he didn't believe Israeli settlements in Palestinian territory were an obstacle to peace, he has since reigned in Netanyahu's permission to build. Trump also appointed, over the objections of many liberal American Jews,  hard-line settlement advocate David Friedman to be the U.S. ambassador to Israel; since his confirmation, however, Friedman has kept an exceedingly low profile.
Even if the president's fickleness stems from his loose grasp on the region's complexities, his abandonment of diplomatic orthodoxies mirrors that of some Israeli voices, who are increasingly calling for new ideas. If the two-state solution is dead, some leaders are now stressing that the status quo must not be the only alternative.
In recent weeks, Gideon Sa'ar, a long-standing member of the reigning Likud party who had taken a sabbatical from politics, announced his return. Widely seen as a potential challenger to Netanyahu, Sa'ar wasted no time in attacking the current administration. Referring to the two-state solution, Sa'ar said, "More and more Israelis and Palestinians alike are beginning to understand that this slogan has become meaningless. A tiny Palestinian state within the West Bank is not viable, and its only purpose would be the perpetuation of war against Israel. Such a state would not have a real economy, and Israel would not be secure." Therefore, he said, "the duty of the Israeli government today is to come up with new ideas."
Sa'ar was not explicit about what he had in mind, but suggested that the key to eventual Palestinian autonomy lay with Jordan. "A Jordanian-Palestinian federative solution would offer the Palestinians space in addition to their autonomy. We could also consider adopting a joint Israeli-Jordanian-Palestinian economic framework." Should that prove impossible, he said, Trump's lack of ideological fixedness makes possible "many other ideas that could be constructed as a result of quiet, serious work with the backing of a supportive U.S. administration."
Equally cognizant of the need to step out of the paradigm is Moshe Ya'alon, the former army chief of staff who has now gone public about his plans to form a new political party to challenge the Likud. Ya'alon agrees progress for the Palestinians cannot wait for a formal peace deal, because such a deal is now unachievable. "I value human life more than land, and I'm not messianic," he said in a recent interview. "There is no chance on the horizon of reaching a final settlement," because Palestinian leadership "is not ready to recognize Israel's right to exist as the nation state of the Jewish people in any boundaries."
Yet Ya'alon understands that even absent an end to the conflict, Israel will need to curtail settlement activity -- precisely as Trump recently intimated. "I do not want to rule the Palestinians or annex them. This means we have to make our own decisions about annexations … and on where to settle. If we wish the Palestinians to be a political entity, we cannot settle everywhere. We must make progress on the economy, infrastructure and security."
Israeli public intellectuals are also weighing in. Micah Goodman, a best-selling author, has written a new book, "Catch 67." It is an attempt to think Israel out of the box in which it finds itself, given the prevailing assumption that there is no way at present to settle the conflict. One possibility Goodman raises is Israel's keeping a military presence along the Jordan River valley but removing the army from the remainder of the West Bank. The Israeli presence along the river would provide Israel with security from violence and arms smuggling from the east and shield the emerging Palestinian entity from being overrun by refugees or immigrants from Syria, Jordan, Iraq and beyond. The solution thus prevents both the militarization of the Palestinian Authority and its collapse.
Goodman acknowledges that his idea is more a thought experiment than an actual proposal. The Palestinians would surely refuse to end the conflict in exchange for these steps, in part because this scenario addresses neither the right of refugee return nor the Palestinian humiliation of 1948, which he argues is much more the issue than the 1967 defeat.
Goodman offers another, very different idea, as well. Israel might recognize Palestine as a state, because that ennobles the Palestinians and costs Israel little. In order to create more territorial contiguity on the West Bank and to enable an emerging state to function, Israel would have to cede to Palestine some of the territory Israel was allowed to retain under the (now essentially defunct) Oslo Accords. With the vast majority of West Bank Arabs then living in a Palestinian governed state, the Palestinians who remain in areas controlled by Israel, Goodman argues, would have to be given status similar to that of Arabs living in East Jerusalem -- almost Israeli citizenship and full civic rights, with the exception of being able to vote in elections for the Knesset.
Goodman obviously understands that these ideas would be highly controversial on both sides. The real goal of his book is not to propose concrete next steps; his point is that given the sad fact that no solution to the conflict is possible, Israel must find ways of easing life for the Palestinians and extricating itself from worsening diplomatic isolation.
What Sa'ar, Ya'alon and Goodman all have in common is that like Trump, they are not wedded to orthodoxies. They recognize that the one-state solution would end the Jewish state, while history has likely killed the two-state plan. Instead of a grand solution, they seek creative alternatives. Whether or not Netanyahu has any real interest in exploring new possibilities, however, is another question altogether.
To contact the author of this story:
Daniel Gordis at danielgordis@outlook.com
To contact the editor responsible for this story:
Stacey Shick at sshick@bloomberg.net
Before it's here, it's on the Bloomberg Terminal.
LEARN MORE