Prophets
The Fed Could Take a Summer Vacation
Weaker data may delay next rate hike.
by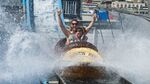 Recent weak U.S. growth and inflation data could provide the opportunity for the Federal Reserve to take a summer vacation. U.S. auto sales, retail sales, job growth and inflation data all weakened in March. Data could worsen further with a soft first-quarter gross domestic product report, and there are downside risks to investment in coming quarters, if fiscal policy stimulus fails to materialize.
Unless growth and inflation data show a sharp upward turn in coming months, the Fed is likely to remain on hold until September.
March data has shown a slowing of inflation, as well as growth, which takes pressure off the Fed in its push to fulfill half of its dual mandate -- that of containing inflation. In data released April 14, the total and core consumer price index fell month over month, though they remain up year over year. Although the Fed uses the core PCE for policy purposes, the drop in core CPI to 2 percent is dovish for Fed policy and bearish for the dollar, since this is the lowest level of core inflation since October 2015.

Despite the drop of consumer inflation, growth data for March have been weak, and are likely to precede a weak first-quarter GDP report later this month. The stream of weak March economic data started with the employment report, which showed a decline in retail jobs to the lowest level since July 2016. Retail bankruptcies have been rising, and the future of retail will be increasingly comprised of e-commerce, requiring increased automation. The dynamics of the in-hand retail revolution could continue to drive brick-and-mortar retail job losses. Then, the prospects of accelerating e-commerce could put the brakes on Fed rate hikes in concert with other economic data.


Auto sales also weakened sharply in the first quarter. Most economic recoveries in U.S. history have been supported by housing, but in the recovery since the recession ended in June 2009, housing credit was tight, and auto sales -- and credit -- became a core pillar of economic recovery and expansion. The recent decline in the first quarter is a cause for concern, as credit tightens, and subprime auto loan concerns have reached a fevered pitch. The quarterly change in auto sales in the first quarter of 2017 showed a decline of 4.6 percent. This was the sharpest drop since the fourth quarter of 2009.

Along with a slowing of auto and retail sales, the prospects for first-quarter U.S. GDP growth have dimmed. The Atlanta Fed's GDPNow on April 14 indicates that GDP growth for the first quarter of 2017 is likely to be 0.5 percent. As most recently as Feb. 1, the Atlanta Fed's leading indicator of growth showed that first-quarter growth was likely to be 3.4 percent. As the prospects for expansion have fallen, so have the prospects for significant increases in Fed Funds Rate hikes. This is not fully priced into financial markets.
If the advanced GDP report for the first quarter, which is slated to be released by the Bureau of Economic Affairs on April 28, is as weak as the Atlanta Fed's GDPNow shows, the dollar and Treasury yields could fall sharply, gold prices could rise sharply, and equities could fall further.

In addition to high market risks in the event of a disappointing pace of first-quarter U.S. GDP growth, there are also downside risks for growth in the second and third quarters if fiscal policy expectations are not met. Business investment, which spent three of the past five quarters in recession, is also exposed to the downside in the second and third quarter if corporate tax cuts and infrastructure spending fail to come to fruition. In such a scenario, the 120-day moving average should be observed as a critical technical support level for the Dow Jones Industrial Average. A close below that level could preclude a sharp decline.
This column does not necessarily reflect the opinion of the editorial board or Bloomberg LP and its owners.