Prophets
Bond Market Narratives Quickly Go Wrong These Days
Treasuries are still locked in a narrow range due to a Fed intent on raising rates and reducing its balance sheet assets.
by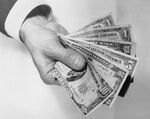 The Treasury market's chartists had a cathartic moment on Friday after the lackluster monthly U.S. jobs report was released. After a long five months of waffling, Treasuries finally had a breakout.
When 10-year Treasury note yields dropped below the 2.30 percent level that had ended so many bond rallies, the floodgates opened. Those bond traders who make their living trading established ranges threw in the towel and covered the last of their short positions. A new group of chart-driven, momentum traders set up bullish positions, eager to get on board the train now that the important resistance line had been violated.
Finally, the Treasury market had a new narrative. Then it all went wrong. After 10 minutes of bull market euphoria, Treasuries inexplicably turned downward in the most violent way. Treasury 10-year yields spiked 12 basis points higher, taking them right back into that numbing 2.30 percent to 2.60 percent range. That's a huge move in a market that has crawled along since November, with miniscule moves of just two to three basis points the norm.
Trend traders play a very large role in the bond market narrative. There are a multitude of strategies, often termed black boxes, that depend on buy or sell signals based on prior trading patterns. When those systems detect a significant price shift, they can all pile in very quickly. That apparently happened after the payroll report. And when the market turned south just as quick, the shorts piled back in.
The seesaw swung back the other way this week, and those new short positions are getting unwound painfully as geopolitical tensions ranging from North Korea to Syria to Russia and the French elections build. While the 10-year Treasury yield is only a few basis points away from the intraday low from last week, the volatility has been painful for both bulls and bears alike, and positioning is shrinking along with liquidity.

What have we learned from this chart-driven mess? The Treasury market, while threatening a breakout, is still locked in a narrow range due to a Federal Reserve that is very clear in its intent to raise interest rates two more times this year and quite possibly starting to reduce the amount of assets on its balance sheet.

If recent history is any guide, the Fed will increase the volume of their open-mouth policy warnings as we get closer to the June Federal Open Market Committee meeting and Treasury yields will grudgingly move higher to accommodate another 25-basis-point increase in the target federal funds rate. Until then the market might ignore traditional fundamental signals, as those confounding chart patterns twist trader positions around.
This column does not necessarily reflect the opinion of the editorial board or Bloomberg LP and its owners.