Editorial Board
Let Europe Compete for London's Business
Rivalry over jobs in finance will be good for the EU.
by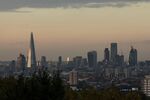 The race is on. As Britain and the European Union begin to negotiate the terms of Brexit, Europe's financial centers are jostling to lure banks, insurers and asset managers away from the City of London.
When providers of goods and services compete for business it's almost always good for their customers, and this new post-Brexit rivalry needn't be any exception. The EU should guard against a disorderly race to the bottom on corporate taxes and financial regulation -- but on the whole, there's much to be gained.
The UK's decision to leave the single market means financial companies are likely to lose the passporting rights that grant them unfettered access to the rest of the EU. This will spur cities such as Frankfurt, Dublin and Paris, after decades of falling behind as suppliers of financial services, to challenge each other for the City's business.
To be sure, London isn't going away. It enjoys several big advantages over its European rivals, including a lightly regulated labor market and a legal system that (by EU standards) offers clarity and certainty. It's a great place to live, if you've got the money. And even in this digital age, there are economic advantages in having clusters of financial firms in close physical proximity.
Europe's rival centers should keep their hopes in check for another reason. Some banks may use Brexit as an opportunity to downsize their European operations, shifting work to Hong Kong and New York instead. London's loss needs not be Milan's gain.
Still, some finance work is sure to relocate to the EU. The migration is about to start. Two examples: Goldman Sachs is mulling over moving up to 1,000 people to Frankfurt, while Morgan Stanley has set its eyes on both Frankfurt and Dublin.
QuickTake London's Future Hinges on Passporting
How should the EU make the most of the opportunity? Coordinating its efforts to promote a single rival to replace London might look appealing at a strategic level, but that isn't going to happen. The EU is neither a fiscal nor a political union. Governments will vie for business against one other.
And that's mostly a good thing. Take labor laws: One reason why countries such as Germany or France find it difficult to attract the headquarters of foreign banks is excessive employee protection. One answer might be to make exceptions to the labor code for the highly paid -- an approach Germany has considered before. This kind of measure shouldn't be hard to sell politically. Which unions would take to the streets to defend bankers' employment rights?
The EU is overregulated, so competition that favors deregulation ought to be welcomed. Conceivably, it could go too far -- if rules that guard against financial instability are compromised, for instance, or if discriminatory tax breaks get handed out. Senior officials at the European Commission and the European Central Bank have acknowledged the possibility, and it bears watching.
The EU needs to ensure the existing rules on state aid and financial stability aren't undermined. Subject only to that, Europe should embrace this competition and aim to reap the benefits.
--Editors: Ferdinando Giugliano, Clive Crook
To contact the senior editor responsible for Bloomberg View's editorials: David Shipley at davidshipley@bloomberg.net .
Before it's here, it's on the Bloomberg Terminal.
LEARN MORE