Europe
The Scottish Antidote to Trumpism
Nicola Sturgeon is touring the U.S. with a call to resist isolationism and xenophobia.
by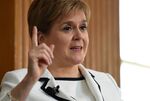 On a U.S. tour, Scottish First Minister Nicola Sturgeon is making a very different case for her country's independence than her predecessor Alex Salmond made in 2014. If his message was mainly about taking charge of the country's resources, Sturgeon's stresses a civilizational choice: A desire to resist a global wave of isolationism and xenophobia. 
QuickTake Scotland's Independence
It probably does little for her chances in an (as yet theoretical) independence referendum: This message is easier to sell to younger voters, and they mostly backed independence on September 18, 2014, anyway. But reframing the central issue of the secession drive can still be useful. It moves the conversation away from the inevitable economic pain of splitting from the U.K. It also recasts Sturgeon's Scottish National Party as a more palatable force for centrists everywhere. In 2014, for example, Sturgeon's Scottish National Party got sympathetic coverage from Russian propaganda media as a nationalist populist force. To hear Sturgeon talk now, the SNP is the antidote to that poison. 
Compare Sturgeon's speech at Stanford this week and Salmond's at the SNP convention in April 2014, and the difference is clear.
Sturgeon is still using some of the same talking points about Scottish achievements. She repeated, nearly word for word, what Salmon said three years ago about Scotland having "more top universities, per head, than any other country" -- though she had to note that Luxembourg now has more. Scotland still has only one U.K. parliament member elected from the ruling Conservative Party, and Sturgeon follows Salmond's lead to highlight the lack of representation. Strewn through both speeches are references to Scotland's aspirations to a stronger welfare state than that afforded by the U.K., a fairer and more compassionate government. 
Gone, however, are Salmond's promises to control immigration and give Scottish companies "a competitive edge in taxation": Those talking points now belong to Brexiteers. 
"We basically take the approach that if you want to be Scottish, you can be," Sturgeon said at the outset of her speech. "We would actually like to see more immigration in Scotland." 
Gone are Salmond's references to the Scottish wealth that the country isn't allowed to manage for its own benefit. Gone is the boastful Salmond reference to Scotland being "the 14th richest country in the developed world," wealthier than the U.K. Instead, Sturgeon is talking about happiness levels as measured by a group of U.S. economists led by Jeffrey Sachs, Richard Layard and John Helliwell. "It was striking," she said, "that the five highest spots were all taken by small European countries – Norway, Denmark, Iceland, Finland and Switzerland. Two of those countries are EU members, and all are members of the European single market."
Like the Nordic countries, Sturgeon said, Scotland would prioritize economic equality. Its economic model would be more German than English. Sturgeon proclaimed herself an admirer of "Rhine capitalism" "based on a strong sense of partnership between workers, trade unions, businesses and the public sector."
It could have seemed to a listener that Scotland was a separate island somewhere in the Bay of Kiel, near German and Danish shores -- or at least floating fast in that direction. As far as unions go, Sturgeon likes the European Union better than the U.K. The EU, to her, is "the least imperfect organization that has been established."
In that respect, Brexit has been a gift to the SNP. During the 2014 campaign, one of the strongest arguments for the opponents of independence was that Scotland might be left outside the EU -- either because it wouldn't be able to fulfill the economic criteria or because Spain would block its membership, fearful of encouraging Catalan secessionists. Now, independence is the only chance for Scotland to stay in the EU, and Spain has promised to allow it. Unlike Salmond, Sturgeon is adopting the EU's rhetoric of inclusion, which remains powerful if somewhat outmoded.
Sturgeon's trip, at taxpayers' expense, has faced sharp criticism in the U.K. Her defense -- that she's promoting trade, not Scottish independence -- carries a whiff of disingenuousness, given that secession has dominated her message. In Sturgeon, the world has a nationalist politician who champions immigration, common European values, an openly leftist approach to economics and a strong environmental bent. In the American context, she is the anti-Trump on a crusade for modernity.
In California and New York City, where Sturgeon is attending a women's summit with Hillary Clinton, that's conducive to a warm welcome and, most likely, to a loosening of purse strings. Sturgeon is digging in for a long, acrimonious battle. She needs all the resources, and all the favorable coverage, she can get around the world.
To contact the author of this story:
Leonid Bershidsky at lbershidsky@bloomberg.net
To contact the editor responsible for this story:
Mike Nizza at mnizza3@bloomberg.net
Before it's here, it's on the Bloomberg Terminal.
LEARN MORE