Transportation
The Right Way to Run a Railroad
Private investors are paying for Florida's express-train service. Government should be grateful, not obstructive.
by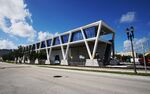 Infrastructure is rising to the top of President Donald Trump's agenda. He reportedly wants to put tax credits for infrastructure investment in a tax-reform bill Congress is expected to produce this summer. Many Democrats want direct federal spending, not tax credits, but agree on the goal of raising spending on roads, bridges and other public works.
In Florida, a different debate is unfolding, and it is a reminder that frequently government could make a useful contribution to infrastructure development by getting out of the way.
At issue is a new passenger express-train service called Brightline. The company behind Brightline, All Aboard Florida, wants it to link Orlando and Miami in a trip that takes less than three hours. Taxpayers are not being asked to provide construction grants or operating subsidies for the new train service, which is being financed by tax-exempt bonds. Investors are expecting passengers to recoup them, and they, rather than taxpayers, will bear the losses if their expectations are not met.
High-speed rail projects are notorious for being money sinks for taxpayers. Brightline would operate just a little too slowly to count, technically, as truly high-speed rail. But it's the minimal public-sector involvement that sets it apart -- and the concomitant freedom to concentrate on business considerations.
Contrast Florida's project with California's bullet-train vision. High-speed rail skeptic Robert Poole notes that California's plan "zigzags from San Francisco to Los Angeles so it can serve such politically required stops as Bakersfield, Gilroy, Sylmar, and Visalia." The Florida route would have just two intermediate stops. For that reason and others, Poole believes that Brightline might succeed.
Several Florida counties have tried to tie up this development in court, citing concerns such as noise and interference with boat traffic. Robert Poole calls these concerns "genuine" but "exaggerated and imbalanced." He notes that All Aboard Florida is, for example, taking steps to minimize the need to use horns.
He also makes the more fundamental point that the rail "was already present, with passenger as well as freight trains running every day, long before any of the current residents lived there (or were even born)."
"Railroads have every right to increase service on their rights of way -- that's what successful railroads do," he wrote.
The county officials who don't want the express service running through their jurisdictions take credit for delaying it, but they also want the Florida Legislature to pass a law hindering it. The bill they have in mind is called the "Rail Safety Act." It's a misleading title. The service would already fall under both federal and state safety regulations. The bill's terms have been written to apply only to this project, not to raise safety standards across the board.
The bill would also make All Aboard Florida pay for maintenance of the road crossings over the track. Those crossings are currently the responsibility of the counties, based on longstanding agreements in which they got the rail company to allow them to be built on its land. In recent years, the counties have spent more on their lawsuits against Brightline than on upkeep.
I asked Mike Reininger, the executive director of All Aboard Florida's parent company, whether passage of the bill would delay the start of full train service. (It is scheduled to begin service from Miami to West Palm Beach in September.) "It certainly becomes much harder, it takes much longer, it becomes much more expensive," he said. Creating new regulatory obstacles "could effectively block the project altogether."
Reininger appreciates that we are having a "national conversation on our need to make improvements to our transport infrastructure and the need for the private sector to get engaged in that problem solving," and notes that Brightline would be "the first express passenger rail built on a private basis for 100 years."
It's the sort of thing policymakers in Washington are going to be debating how to have more of. Less governmental obstruction would be a good start.
To contact the author of this story:
Ramesh Ponnuru at rponnuru@bloomberg.net
To contact the editor responsible for this story:
Katy Roberts at kroberts29@bloomberg.net
Before it's here, it's on the Bloomberg Terminal.
LEARN MORE