view
Ecuador Isn't an Easy Win for Latin America's Right Wing
No matter who gets the most votes, the road ahead will be a hard one.
by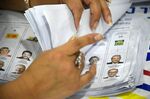 If recent Latin American history means anything, Ecuador's runoff vote for president is Guillermo Lasso's to lose. Conservative and market-friendly, the 61-year-old Guayaquil-born banker rode a swell of discontent over outgoing President Rafael Correa's mercurial and divisive decade-long rule to reach the second round, set for April 2. Polls show a tight race with Lasso, of the opposition alliance CREO, running just behind Correa's pick, Lenin Moreno, of Alianza Pais. The country's seething opposition is banking on Lasso's rise as part of a prevailing wind.
After all, the region's right-wingers have been on a roll. Piqued by corruption scandals and economic debacles, voters turfed out the populist Peronists in Argentina, put a Wall Street veteran in charge in Peru, and busted up the Bolivarian dynasty in Venezuela's congress. Brazil's lefty Workers' Party leader Dilma Rousseff fell to impeachment, after making a hash of Latin America's biggest economy. Even the Organization of American States, under tough new management, has been rehabilitated from an echo chamber for leftist blunderbusses into a forum for democratic debate, as this week's hearings on Venezuela's damaged polity have shown.
For sure, Latin America's storied pink tide of leftist governments is far from exhausted. Lashing back at diplomatic pressure, Venezuela's government-stacked Supreme Court moved to usurp congressional authority on Thursday, handing President Nicolas Maduro near dictatorial powers. Bolivian strongman Evo Morales has announced he'll seek a fourth term, flouting last year's referendum that barred him from abolishing term limits. He's so confident he recently inaugurated a $7 million thematic museum, dedicated to ... Evo Morales.
Ecuador's Correa held office for a decade, even as he defaulted on foreign loans and snubbed gringo powers with gestures such as granting asylum to fugitive WikiLeaks impresario Julian Assange, still holed up in Ecuador's London embassy. Undergirding Correa's appeal was commodities-driven growth that enabled his government to pour money into poverty relief and public works. From 2006 to 2014, poverty fell 15 percent, the middle class swelled and inequality retreated -- much as it did across the Americas.
Yet just as elsewhere in the hemisphere, the global economic downturn and falling prices for oil -- which accounts for half of Ecuador's exports and 30 percent of government revenues -- have threatened to pull the poncho off these tender social advances. As the International Monetary Fund has pointed out, Ecuador's economy was already "highly vulnerable" even before 2015's 7.8 magnitude earthquake, which killed 675 people and caused $3.3 billion in damages. Gross domestic product fell 2 percent last year, and will likely shrink again (by 0.2 percent) according to seven economists surveyed by Bloomberg. "An economic adjustment is coming and it's going to be brutal," Andres Mejia Acosta, a political scientist at Kings College London, told me.
A win by Lenin Moreno, whose party commands 74 of 137 congressional seats, could make governing easier. But Ecuador's ruling coalition is riven with feuds that may be hard to suppress once the wily Correa is gone -- not least once Moreno realizes that more tax-and-spend government will do nothing to revive Ecuador's prostrate economy.
Lasso's plan of tax relief, labor reform and a green light to foreign investors might bring Ecuador some relief (as would his promise to evict Assange from the London embassy), but he'll need more than his banker's credentials to sway a likely hostile and nationalistic legislative majority. "It's going to be hard for either candidate to deliver growth in this environment," said the Eurasia Group's Risa Grais-Targow. "No matter who wins, the honeymoon will be short."
Lasso might not even get there. Stung by the opposition surge in February's first round of voting, the Correa government and its acolytes at home and abroad have muscled up behind Moreno, tarring Lasso as neoliberalism's man Friday. Perks for Moreno have included plenty of airtime on government broadcast media, converting public works ribbon cuttings into campaign events, spreading fake news, and campaigning in the Jeep Pope Francis used in his trip to Ecuador. The contest took an ugly turn on Tuesday night, when Lasso was attacked by an angry pro-Correa mob at Quito's Atahualpa football stadium, after Ecuador's loss to Colombia in a World Cup qualifier. Moreno condemned the violence, but tensions are building ahead of Sunday's vote.
Whoever wins will have to manage a country poisoned by partisanship and hobbled by shady dealings, institutional dysfunction, and economic disarray. It doesn't take a neoliberal to know the current path is unsustainable. But assuming Sunday's poll is honest, it will be up to Ecuador's voters to decide whether to surf the ebbing of the region's pink tide, or try to catch a newer, better wave.
To contact the author of this story:
Mac Margolis at mmargolis14@bloomberg.net
To contact the editor responsible for this story:
James Gibney at jgibney5@bloomberg.net
Before it's here, it's on the Bloomberg Terminal.
LEARN MORE