U.K.
He's a Real Anywhere Man
Former chancellor of the exchequer, present member of Parliament, company adviser, future newspaper editor.
by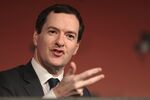 If people outside the U.K. remember George Osborne, it's probably as the author of a belt-tightening austerity program in the Conservative government of Prime Minister David Cameron.
Now, though, the former chancellor of the exchequer is the center of a flurry of attention inside the U.K. for a new job that's not part of government at all: an appointment as editor of London's Evening Standard newspaper.
"I may have run a country," he told the newspaper's staff on Friday, "but I've never run a newspaper."
If it's hard to imagine a former U.S. vice president taking over the editorship of a major U.S. newspaper, it's less of a stretch in the U.K. Plenty of British mandarins were educated to write; in the Philosophy, Politics and Economics program at Oxford University, whose graduates are spread throughout the highest echelons of U.K. society, students churn out essays at breakneck rates.
Winston Churchill published hundreds of speeches and other commentary while serving in Parliament. Boris Johnson, the ex-mayor of London, is a former editor of the Spectator magazine who began his career as a journalist and continued to write while in politics.
But Osborne's move has provoked surprise, outrage and a few guffaws. He doesn't have much journalistic experience and he is not writing a column, but will edit the paper at least four days a week. The fifth is apparently reserved for U.S. investment management behemoth BlackRock Inc, where he has an $805,610-a-year, one-day-a-week deal. While Osborne is no longer in government, he's still in politics. As a member of Parliament, Osborne represents the constituents of Tatton in Cheshire, 195 miles northwest of London.
There are two problems with this: conflict of interest and time-management.
Conflict of interest is the least problematic, at least on paper. MPs are not only allowed to hold other jobs, it's standard practice. An MP who is also a practicing GP doesn't raise eyebrows. Some MPs argue that they are better politicians because of their other job. Certainly they can use the extra income. The basic annual salary for an MP is 74,962 pounds (about $93,000); a U.S. Congressman makes 87 percent more at $174,000 a year. Transparency International found in 2015 that 73 MPs were paid 3.4 million pounds in the previous year for "external advisory roles."
The moonlighting, of course, can often result in line-blurring, as it did when two former foreign secretaries were videotaped by undercover journalists offering a fake Chinese company access to officials for a fee (they were later cleared of impropriety). One of them, Sir Malcom Rifkind was heard in the recording saying, "You'd be surprised by how much free time I have."
Osborne might manage to juggle three demanding jobs. The Evening Standard, owned by former KGB agent-turned-oligarch Alexander Lebedev and his son, Evgeny, publishes in the afternoon each day, leaving the former chancellor time to dash to his parliamentary office or attend debates. And yet a schedule that seems to treat his elected job as almost an afterthought would seem to underscore the divide in the U.K., reflected in the Brexit vote, between those who have such choices and those who don't.
David Goodhart, formerly the founding editor of Prospect magazine, nails this fracture line in a new book on the populist revolt. Osborne is part of the tribe Goodhart calls Anywheres -- the sort of people who do well in school, go away to university, have successful careers and portable identities and embrace change. Their opposite are the Somewheres, those more rooted in one place and whose identities are based on group belonging and occupation. About 60 percent of British people still live within 20 miles of where they grew up, says Goodhart. That makes them more skeptical of the global elite who glide effortlessly between jobs and places.
Osborne's Remain-voting Tatton constituents -- a fairly wealthy demographic of commuter villages outside Manchester -- may be forgiving of his divided attentions. His newspaper role may sharpen his sense of public service and put him in touch with an important readership, albeit one with interests that are very different from those of the Northwest of the country.
And yet, in other constituencies near his own, where Brexit won out, his transformer-like qualities may be regarded as more proof that Anywheres can't relate to Somewheres. And they won't be wrong.
This column does not necessarily reflect the opinion of the editorial board or Bloomberg LP and its owners.