Law
'Arrogant' Lawyers and an Ill-Tempered Federal Judge
A Texas voting-rights case revives an old white Southern aversion to Washington's supervision.
by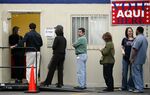 The legal world is abuzz over a highly unusual dissent issued last week by a federal appellate judge in a Texas redistricting case. The judge denounced the Department of Justice lawyers who, under Barack Obama's administration, litigated -- and won -- the case as "arrogant" carpetbaggers who descended on Texas to "rescue the state from oppression."
The judge's extreme rhetoric resonates with the current Trumpian mood of angry resistance to government. It also echoes classic white Southern resistance to Reconstruction, updated for a modern age in which it can be argued that federal supervision of the South is no longer needed.
That view is in an important sense misplaced. It's true that old-fashioned racism rarely determines voting-rights cases. But new demographics and politics, especially involving Latino voters, have brought about new kinds of racially motivated districting that is just as illegal as the old kind.
The dissent by Ronald Reagan appointee Judge Jerry Smith has to be read to be believed. Smith first wrote that the Justice lawyers "entered these proceedings with arrogance and condescension." His proof was that one lawyer rolled her eyes at witness answers she didn't like and (horrors!) chewed gum in court. That's not what we teach our students to do in law school, but it's also not quite the same thing as arrogance. It's more like amateurism.
Then Smith went off the rails. "It was obvious, from the start," he wrote, that what he called "the DoJ lawyers" viewed Texas officials "as a bunch of backwoods hayseed bigots who bemoan the abolition of the poll tax and pine for the days of literacy tests and lynchings." Smith has no evidence for this assertion, which he admitted was "personal impressions based on demeanor and attitude."
The Justice lawyers, he went on, "saw themselves as an expeditionary landing party." And he further speculated that "the Department of Justice … views Texas redistricting litigation as the potential grand prize and lusts for the day when it can reimpose preclearance," the method of federal review created by the Voting Rights Act and overturned by the Supreme Court in 2013.
Federal judges don't write this way. And there's good reason for that.
This intemperate, ad hominem attack on career lawyers -- without any concrete evidence to back it up -- is downright Trumpian.
And like many of President Donald Trump's targets, the lawyers can't say or do anything to defend themselves. The case, decided by a special three-judge district court, can be appealed by the state to the U.S. Supreme Court, which could always send it back. It would be poor judgment for the Justice Department to defend itself.
Beyond the picking on people who can't talk back, the judge's attack raises a deeper problem. It harks back to the classic white Southern argument against the need for federal intervention, honed in Reconstruction and its aftermath.
I'm on a spring break road trip in the South with my kids, and there are many reminders of this classic resistance, chiefly in the form of post-Civil War memorials intended not to honor the dead but to keep alive the spirit of the Confederacy. My favorite so far is a lone antebellum gas lamp in Atlanta, damaged yet not destroyed by a cannon ball. A marker on it, dating to 1939, calls the lamp "the eternal flame of the Confederacy." 1
By depicting the Justice lawyers as a military-style "landing party" looking to save Southern minorities from injustice, Smith unmistakably alluded to this traditional resistance to Northern, federal intervention.
To be fair to Smith, the new South is not the old, and in many, many ways its racial integration is far superior to the North. Smith's updated version of the old resistance is to imply that racism of poll tax and lynchings is gone. That's true in a sense. Yet the new version of the old resistance is also problematic.
Witness the decision from which Smith dissented. Two judges, one appointed by Bill Clinton and the other by George W. Bush, outvoted Smith to conclude that the Texas legislature had in fact broken up Latino districts to dilute Latino voting power.  As it happens, both of those judges are themselves Latino.
So Smith is right that the new face of discriminatory voting isn't about poll taxes or lynching. It's about sophisticated districting that aims to subtly disenfranchise. And, in Texas, it isn't about black voters but Latinos.
The new discrimination is just as unlawful as the old kind, however. If the Department of Justice lawyers are (or were) crusading to eradicate it, good for them.
No one should disrespect or underestimate the enormous and inspiring racial progress of the South, especially Northerners who have often made less progress ourselves. But true progress means taking on and rejecting discrimination of all kinds, wherever it is found. And that's a lesson for the generations.
We also enjoyed the First White House of the Confederacy in Montgomery, Alabama. Jefferson Davis spent only about six months there before the Confederate capital was moved to Richmond, Virginia. What's important isn't the well-preserved mansion; it's the fact that an effort was made in the early 20th century to preserve it and turn it into a museum.
To contact the author of this story:
Noah Feldman at nfeldman7@bloomberg.net
To contact the editor responsible for this story:
Stacey Shick at sshick@bloomberg.net
Before it's here, it's on the Bloomberg Terminal.
LEARN MORE