Prophets
Oil Traders Have Lots of Reasons to Be Bullish
The current mismatch between rising U.S. production and OPEC cuts will prove to be brief.
by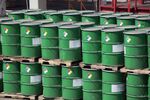 Lost in all the recent handwringing over the sudden drop in oil prices recently is one simple fact: neither the dynamics of global supply and demand, nor the economic cycle have been significantly altered. Crude may look like it's embarking on another deep, painful slump, but any further drop from current levels will likely be short-lived. Expect prices to hold in a range from the mid-$40 level to the low $60s per barrel this year.
The rise of fracking in the U.S. has reduced oil's efficacy as a leading economic indicator such that marginal supply, not demand, drives prices. The surprise victory by Donald Trump in the U.S. elections in November, coupled with OPEC's production cuts, put crude even deeper into new supply-side driven paradigm. By tweaking production, U.S. frackers proved they could be nimble and make the economics work with prices as low as $30 to $35 a barrel, levels that were about 70 percent below prior breakeven estimates. Now with the Trump administration's support for new pipelines, industry tax reform and more lax regulations, oil prices should stabilize.
Current price weakness that pushed spot prices to below $48 a barrel this week from more than $54 at the start of the month is partially the result of an unwinding of extreme market positioning by speculators, who cut their net-long positions last week to the lowest in a month. Bullish bets on crude had increased almost every week since the OPEC deal was announced in late November. The market is still oversupplied and U.S. inventories are temporarily swelling, growing to a near-record 528 million barrels last week before easing back a bit by about 200,000 barrels.
The current timing mismatch between the U.S. production ramp-up and OPEC cuts should be brief. As we approach peak driving season, U.S. gasoline consumption will rise. Plus, the economy is strengthening, with the Organization for Economic Cooperation and Development in Paris expects global gross domestic product to expand 3.6 percent this year, from 3.2 percent in 2016. The International Energy Agency sees 1.2 percent average annual global demand growth through 2022 led by non‐OECD countries, confirming a reflation trend in emerging markets. Thus, robust demand serves to strengthen the odds for a topping out of U.S. inventories, a reduction of global inventories and stabilized prices.

Also evident is the returning efficacy of OPEC as a price-stabilizing cartel. Only now is the impact of OPEC's deals to cut production by 1.2 million barrels per day and non-OPEC production by 600,000 barrels a day in the first half of 2017 working into the supply chain. Global inventories are therefore likely to decline as OPEC restrains supply.
That's not to say there won't be temporary setbacks. Oil prices took another hit this week when Saudi Arabia announced it reversed a third of its production cuts made in January, and raised output back above 10 million barrels per day in February. While Saudi Arabia is hardly ever in full compliance, the news still caused West Texas Intermediate to drop to $47.09 per barrel, the lowest since the OPEC supply deal was first struck.
Saudi Arabia's Energy Ministry, nevertheless, said that the volume still fell by 90,000 barrels a day to 9.9 million, with the extra supplies moved into storage. And at 10.011 million barrels per day, according to Riyadh numbers, Saudi output is still below the ceiling of 10.058 million imposed by the agreement. Libya indicated an 11 percent decline in output as clashes among rival groups led to closing of some of its export terminals, representing a drop of about 80,000 barrels per day to 620,000.

Finally, oil's impact on the global economy is receding as its correlations with the dollar and inflation moderates.
Look for more news next week when OPEC meets on March 25 to decide whether to extend their output accord. Also, a five-nation committee established to review OPEC compliance will meet in Kuwait on March 25-26. The short-term speaks more to the supply side. Once the market settles down and fundamentals materialize from the OPEC cuts, barring any major unperceived disruption, volatility should drop. A combination of supply discipline from non-U.S. producers, the march toward American energy independence, emerging market growth and OPEC again acting as a traditional cartel, should hold prices in balance this year.
To contact the author of this story:
Shelley Goldberg at shelleyrg3@gmail.com
To contact the editor responsible for this story:
Robert Burgess at bburgess@bloomberg.net
Before it's here, it's on the Bloomberg Terminal.
LEARN MORE