Ritholtz's Reads
Tech Busts, Climate Change and Facing Facts
Here are your morning reads.
by
We didn't get the foot-plus that was feared (on the North Shore of Long Island, we were hit with two-thirds of that) but it was still a mess. Our post-blizzard morning train reads:
Nice company. Be a shame if anything happened to it ... (New York Times)
Bill Ackman Is Done Losing Money on Valeant (Bloomberg View); see also Ackman's Valeant Bust Shows the Cost of Inconsistency (Bloomberg View)
The Corporate Welfare ETF: a new twist on the vice/not vice idea (CityWire)
Unemployment is falling almost everywhere. Wages aren't rising much anywhere. (Bloomberg)
The Ghost Bosses: Private-equity firms have been rapidly buying and selling off companies for decades, and workers in Lancaster, Ohio, are living with the consequences. (the Atlantic)
Apple store creator Ron Johnson: "What I love is creating. I created the Apple stores, I helped reinvent Target. My strength is imagining." (Recode)
For Most Cities, the Tech Boom Is a Bust (City Lab)
Pandora Premium: the original music streaming giant is ready for prime time (the Verge)
This Article Won't Change Your Mind: The facts on why facts alone can't fight false beliefs (the Atlantic)
Trump's Defense Secretary Cites Climate Change as National Security Challenge (ProPublica)
What are you reading?
Carbon Dioxide in Atmosphere Rises at Record Rate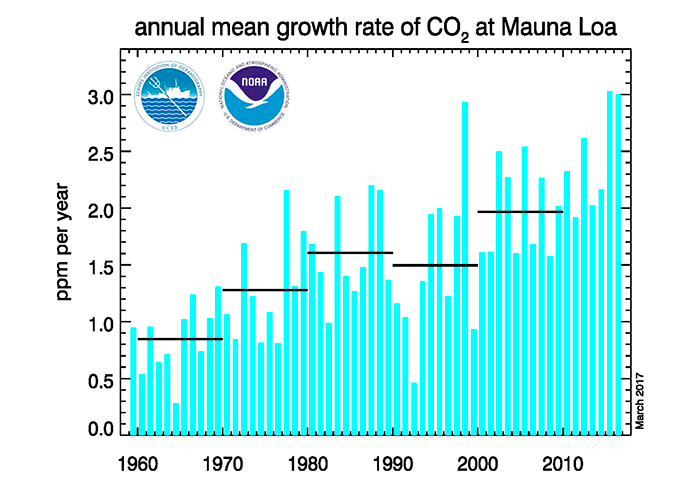 Source: Washington Post
Want to receive our daily reads in your inbox? Sign up here!
This column does not necessarily reflect the opinion of the editorial board or Bloomberg LP and its owners.
To contact the author of this story:
Barry Ritholtz at britholtz3@bloomberg.net
To contact the editor responsible for this story:
Brooke Sample at bsample1@bloomberg.net
Before it's here, it's on the Bloomberg Terminal.
LEARN MORE